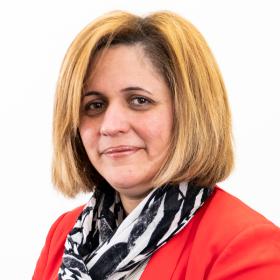 Dr. Ingy Shafei
MBBCh, MSc, MBA, MPhil, MD, DBA
Senior Lecturer in Marketing, Research Program Coordinator and Ethics Committee Coordinator
---
Research and teaching specialties
Continuous Improvement and Process Reengineering in Healthcare, Consumer Behaviour, Action Research in Healthcare, Healthcare Management, Strategic Marketing Management
Biography
Dr. Ingy Shafei has a Doctorate of Business Administration from Maastricht School of Management (Netherlands) as well as a Doctorate in Medicine. She is a lecturer with over ten years' experience in lecturing and research, in both business administration and medicine at both the undergraduate and postgraduate level. She also has a wealth of field experience, having worked in the fields of clinical pathology, healthcare management consulting, project management and accreditation using CMMI and Agile methodologies. She enjoys a demonstrated track record of excellence and upward mobility with experience working in diverse teaching environments as well as local and international organisations addressing global trends and issues. She is a member of the Australian Marketing Institute (AMI) and the Action Leaning Action Research Association (ALARA). She has been the recipient of multiple industry grants and is involved in research in healthcare management and quality improvement.
Publications and Presentations
Jurman, P and Shafei I (2016) 'Investigating telemonitoring practice: a proposed work-applied methodology', Journal of Work Applied Management, 8 (1), pp.29-55.
Taher, A and Shafei, I (2016) 'Research based insights on catalogue marketing and its implications: The Case of Safeer Catalogue', World Journal of Management, 7 (1), pp. 1-16.
Shafei, I and Tabaa, H (2016) 'Factors affecting customer loyalty for mobile telecommunications', Euromed Journal of Business, 11 (3), pp. 347 – 361
Shafei I, Taher A and Walberg, J (2015) 'Healthcare Service Quality: What Really Matters to the Patient?', International Journal of Pharmaceutical and Healthcare Marketing, 9 (4),  pp. 369 – 391.
El Zuhairy, H, Taher, A and Shafei, I (2015) 'Post-mergers and Acquisitions: The motives, success factors and key success indicators', Eurasian Journal of Business and Management, 3(2), pp. 1-11