Andrew Brien
Building life skills and realigning knowledge with further study
Industry:

Retail & Sales

Mode of study:

Distance Learning

Location:

Western Australia

Programme:

MBA

Themes:

Practicality

Motivation:

Better Leader/Skills

Challenges:

Family Commitments,Frequent Traveller,Work Commitments

Seniority:

High-Level
created on 29/06/2015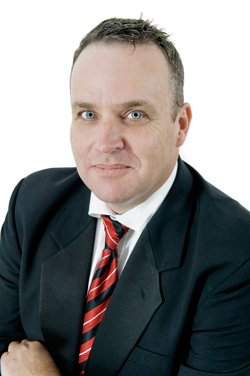 It was several years of work on some major projects using skills from his MBA that took Andrew to his current managerial position at a prime real estate company.
Having seen the business through a period of intense change, he is now focusing on company growth, using many of the tools he learnt during his MBA to structure business proposals, undertake SWOT analysis, and create policy and procedures.
"The leadership module was very good because we manage a lot of people in business and it's good to learn more about how to lead them," he said.
Beyond the immediate benefits of completing a work-applied MBA, Andrew also found it provided a strong background to build on his life skills and a way to challenge his thinking about every segment of the business.
"You get a bit insular in big businesses sometimes, so looking at the case studies and applying the theory back to my role in the assignments was really helpful," Andrew said.
"At the moment we are focusing on making sure we have a growth strategy, embracing new technology and managing recruitment and retention," he said.
"It's really good to challenge your thought processes with the MBA and just make sure you are on the right track, and if not, to realign yourself."
Andrew completed the MBA through Distance Learning, using the flexibility of the mode to fit in with intense travelling.
"When I completed my MBA I was working full-time and travelling across South Australia, Tasmania, Victoria and New South Wales a lot," he said.
"I didn't have time to go to the face-to-face workshops with on-campus students, but if I had my time again I would do it that way."
He could, however, see many benefits to the Distance Learning model, including the fact that he could complete the degree in his own time, the website and online facilitators were very helpful, and the information was always available for him.
"I found it was a helpful mode of learning for someone who works a lot, so in any downtime or weekend I could do my study and get my assignments done," he said.
Asked how he managed to fit the degree in amongst hefty work commitments, travel, and a family with six children to look after, Andrew said the key was staying ahead of the game.
"At that moment in your life, organisation is crucial – you have to be 100% focused every month and keep yourself organised," Andrew said.
"The timing is crucial when you start because one you do, you are full-on with just the reading you have to do, and in distance learning without a classroom to go to, you have to be more pro-active to find the information."
In the end Andrew completed his degree over 18 months, taking intermittent breaks throughout his degree.
"It was a well-structured course and I got a lot out of it," he said. "It was a really good experience."