Annie Andrews
Developing a country through practical learning
Industry:

Human Resource Management

Location:

Trinidad and Tobago
created on 29/06/2015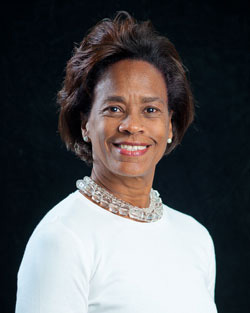 For course facilitator Annie Andrews, the decision to facilitate courses with SITAL College of Tertiary Education was made on the fact that she shared the same vision as the college's owner.
That vision – to offer training that is relevant to developing areas of the Trinidad and Tobago economy – continues today, more than 14 years on, as Annie continues to fulfil her love of teaching.
"Whereas in traditional universities you would have students getting into university younger and going through four years in that developmental approach, there was also a need for persons who were already retained in institutions – working, but having a keen interest in other areas," she said.
"I understood the need for persons to be exposed to that practical approach, because the country was more involved in human capacity building, and needed to have that education developed very quickly."
SITAL became a perfect fit for Annie, appealing due to its focus on adult learning as well as a good way for her to use her accumulated working experiences as examples to share with her students.
"You have the opportunity to bring alive information that they have in the text, in the slides, in the websites that they can access, in the manuals and the journal," she said.
"When I seek to explain something I can refer to having done it, having seen it done, having seen the outcome, having seen where some approaches worked and some didn't.
"I can use this to share with the students who, beyond the book and beyond their paradigm, may not have the experience that will allow them to bring the concept, the principles, the information and the slides to life."
This practical approach works wonders for adult learners, according to Annie, who says that applying real-life examples to teaching is a crucial part of helping adult students to learn.
"They have to explore the concepts, look at relevant literature and either refute or support what was said based on their findings in the situation or the business they are looking at, so they can make a risk evaluation and analysis," she said.
"When you challenge students that way they get energised because they're removed from thinking 'Okay, I will just read and remember and prepare for an exam.'"
According to Annie, this practical form of learning is far more beneficial than the regurgitative form, where students need only to have a good memory and can pass subjects based on remembering facts alone.
"You can get the certificate and pass the subject, but based on my HR background, if I had to interview you for a job in my company you would not get the job because you have to show not only knowledge, but that you have the learning curve to acquire more knowledge," she said.
"In the regurgitative mode you're relying on memory, and memory alone would not do it when you're faced with a new situation or when you're faced with new information."
Helping her students to understand the information by applying her experience to the lessons is a key part of the learning process, both for Annie and her students.
"Knowledge is only worthy when it's shared with others and multiplied and shared again," Annie said.
"I believe that as you grow one of the best things you can do for yourself is to learn more and more about any area that interests you," she said.
"If you happen to work in that area, better yet, but even if you don't work in that area, it just makes people better developed and more motivated all round."