Enoka Siriwardena
Building lifelong friendships and a strong business network
Industry:

Farming & Agriculture

Mode of study:

Teaching Centre

Location:

Sri Lanka

Programme:

MBA

Themes:

Networks,Practicality

Motivation:

Personal achievement

Challenges:

Family Commitments,Work Commitments

Seniority:

Mid-Level
created on 29/06/2015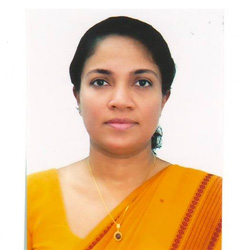 Working in the marine industry, Enoka says she was drawn to completing an MBA because she wanted to get an overall understanding of the business so she could improve her capability and show her potential.
She chose AIB's MBA on the basis of its 12 month duration, its affordability and the convenience of the weekend lecture times, which fit into her work schedule.
"I learned to see the overall picture of the business, as it is happening, and build a foundation of knowledge I could add to my current work each month," she said.
"The MBA helped me to contribute more to the organisation, as each subject has lots of practical application with practical examples."
Having completed her MBA through AIB's Sri Lankan Teaching Centre, Enoka learnt from facilitators who are industry experts and networked with many other professionals in class.
"I made many friends while I was studying at AIB. Because they were also managers in leading organisations, we depended on each other to learn, and if they had skills in a subject they would give examples to explain to the others," she said.
"We learnt a lot, and when we had problems in our organisations we used to look through the textbooks or ask our friends and we applied our knowledge."
For Enoka, fitting the MBA around her work and family life often became a matter of thinking strategically.
"I used to stay at my office for two hours after work to study, and through doing that I saved traffic time in getting home," she said.
"I'd also have conference calls with my friends each night to discuss ideas and clarify things, and work through the textbook."
But the sacrifice was more than worth it for Enoka, who says she still uses her MBA textbooks in her work.
"I truly contribute more every year I use this knowledge, and the analytical approach helps me to look at things differently," she said.
"I now have an overall understanding of my organisation from beginning to end. When I started the MBA I had the idea of picking the best subjects, but now I see this MBA is not focused on one area, but balanced between all of them."
Completing the MBA led to other benefits as well, opening up other work opportunities for Enoka in different industries.
"I got the opportunity to do visiting lectures in a leading institute in Sri Lanka, so I am doing lectures in Human Resource Management subjects," she said.
"Doing assignments also improved my writing skills. These were a great help to my current job, and I now contribute a few articles to an institute that does a People Power magazine, which I also enjoy."