Gary Rayment
Regional Manager's love of learning leads him to the AIB MBA
Industry:

Healthcare & Medical

Mode of study:

On-campus

Location:

South Australia

Programme:

MBA (Entrepreneurial Management)

Themes:

Achievement,Practicality

Motivation:

Better Leader/Skills,Personal achievement

Seniority:

High-Level
created on 14/01/2015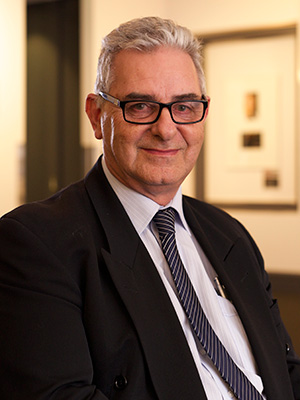 Overseeing approximately 50 staff in 23 locations requires a competent manager. However, there is always room for improvement and that is exactly why Gary Rayment decided to take on the AIB MBA.
As well as expanding on his skills and experience, Gary was interested in doing the MBA out of his own enjoyment of learning and because he wanted to do something different of his own accord.
"Before taking on the AIB MBA, I had a Diploma in Audiometry and a Certificate IV in Accounting. I decided to do the MBA because I had mainly been in senior management roles throughout my career, but I did not have any formal business qualifications as such," said Gary.
"I did the MBA largely out of my own interest, because I enjoy learning. I was lucky because the company I work for also recognised the benefits of the MBA and allowed me to have one day off a fortnight to study."
Gary's experience extended to operating a successful business in Adelaide, Hearing Services SA, for nine years before selling to a large international company and moving into a role working for Audio Clinic.
"I am based in Adelaide working for Audio Clinic, which is part of a large Danish company, William Demant Holding Group. I have been working in this role for the past six years." said Gary.
"In my position as State Manager, I look after around 50 staff in 23 hearing centres and I am involved in shaping the future direction of Audio Clinic."
Not only did the AIB MBA compliment the experience Gary already had, but it was the best choice for him in terms of being able to fit a degree into his life.
"I did a fair bit of research into MBAs in Australia before I chose the AIB MBA. I didn't want to give up full-time employment, so studying as a part-time internal student was not feasible. The fact that AIB offered a distance learning program was therefore a very attractive option for me," said Gary.
Gary was glad to have chosen AIB, as his experience was overwhelmingly positive due to the high quality staff and the excellent course structure.
"I found the MBA to be a very good course. For someone who had a lot of informal experience and had achieved a lot in business, I found the MBA gave me more structure and taught me more effective research skills."
"I can definitely say that throughout the course, my comprehension improved, my writing skills improved and I would highly recommend doing the MBA to anyone.