George Hallwood
An entrepreneur shares why his MBA is an invaluable tool for business success
Industry:

Consulting & Strategy

Mode of study:

On-campus

Location:

South Australia

Programme:

MBA (Entrepreneurial Management)

Themes:

Duration,Networks,Work-Life Balance

Motivation:

Grow Business

Seniority:

High-Level
created on 06/01/2015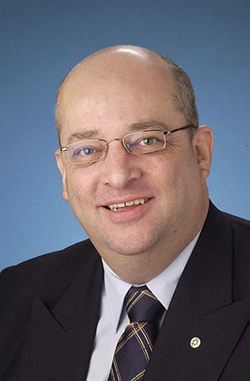 George Hallwood, CEO of Effective Australia, used the skills he learnt from the AIB MBA to adapt to the ever-changing world of business.
"Some of the greatest challenges we face are in the way organisations now do business. In the past, we used to develop relationships with customers, and working closely with them would guarantee getting more work in the future. However, today, much of our work comes through tenders," said George.
"The MBA has helped me to understand what customers want through the tender process. I am now able to simplify work processes and describe what the systems are in order to convey this to customers."
George began his company, Effective Australia, sixteen years ago. In his role as CEO for the rehabilitation company, George has to ensure that his professional staff, including occupational therapists, psychologists, social workers, registered nurses and rehabilitation counsellors, have all the resources they require. Effectively, he acts as an interface between the customers and the company.
Holding a Diploma in Business and a Company Director's Diploma, which he had completed some time ago, George felt it would be useful to gain some new perspectives on running a business. As part of the first group to take the 12 month MBA program, George graduated in 2008.
"Through running a business, you experience many ups and downs. It makes you think you could learn more about how to be successful in business. I felt the MBA would build on my knowledge and provide me with some of the tools you needed for this success," said George.
"Some of the aspects of the course were fresh and brand new; others confirmed my view of the business world based on my experience. The structured and simplified approaches taught during the MBA were the greatest things I learnt. I've been to a number of learning institutions and the quality of lecturers and courses at AIB are of a high standard."
After weighing up the pros and cons of studying at another institution, the compressed time frame of the AIB MBA appealed to George. Between running a business and wanting to spend as much time as possible with his family, the AIB MBA was clearly the right decision for him.
"I felt that the MBA did deliver in terms of my ability to get it done and get back to my normal life with my family and my business," said George.
Aside from the business skills acquired from studying the MBA, George made some lifelong friends through studying at AIB.
A benefit that is often underrated is the lifelong friends I have made through studying at AIB. The small class sizes meant that my classmates and I worked hard together and we were always looking out for one another. Most of us still get together about once a month for lunch and to catch up on how everyone is going."
For George, the AIB MBA was the right choice in terms of quickly boosting his skills in business and allowing him to focus on running his company.
"Overall, I thought the 12 month MBA at AIB was a really great program that covered most of the issues you need to deal with in business. It was comprehensive and very well run. I would thoroughly recommend the AIB MBA."