James Telfer
Reaffirming Experience with a Formal Qualification from AIB
Industry:

Human Resource Management

Mode of study:

Distance Learning

Location:

Victoria

Programme:

MBA (Human Resource Management)

Themes:

Methodology,Practicality

Motivation:

Wants Formal Qualification

Challenges:

Family Commitments

Seniority:

High-Level
created on 07/07/2015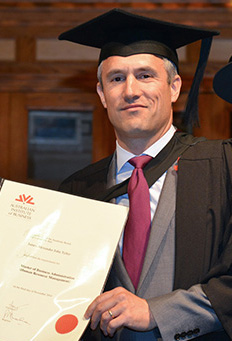 The opportunities that can present when undertaking an MBA are wide-ranging – promotions, salary increases, career changes and even the growth of some businesses can be attributed to those completing an MBA.
2014 graduate James Telfer undertook the 12 Month MBA programme with AIB as a way of reaffirming his business skills and gaining a formal qualification to complement his years of experience.
"The MBA for me was a way to bring together my previous management experience. I entered my career as a non-graduate, and I went into the armed forces for 7 years. Going into this business course gave me some opportunities to fill in some blanks, and gain some additional business skills."
Currently a Team Leader in talent acquisition across the Asia Pacific region for telecommunications company Verizon, James had many work commitments to manage in addition to the time required to study. His key advice for future students is to plan for everything.
"My advice to anyone considering an MBA is 'don't underestimate it'. There is a lot of planning that is required, from business requirements to your family commitments, and any outside interests you might have. If you plan well, it can be done," he said.
"The structure of the MBA was very good. The monthly model allows you some flexibility, and allows you to put breaks in for family holidays or other commitments like business travel. The modular nature of a month at a time, made it achievable for me. It was the only way I could consider doing the degree."
Though he's had several years of experience in a variety of operations and human resources roles, across a wide range of industries, James found that he learnt many additional skills while completing his MBA with AIB.
"I think I underestimated the benefits of the MBA when I started as I immediately saw how I could fulfil my role, and add to it, with the knowledge I was acquiring – it really exceeded my expectations."
"From the very first module, the lessons that you were taking out of the classroom were applicable in your everyday role – right from the start. It was a great advantage of the programme."
James is now an advocate of the programme, even recommending the AIB MBA to a few of his colleagues who were looking for the same level of interaction and practicality in a higher education degree.
"I recommended the MBA to two people, who promptly signed up for the course – and will be graduating in 2015."