John Bullen
John shares the importance of starting an MBA now.
Industry:

Accounting & Finance

Mode of study:

On-campus

Location:

South Australia

Programme:

MBA

Themes:

Duration

Motivation:

Better Leader/Skills

Challenges:

Work Commitments

Seniority:

Mid-Level
created on 19/01/2015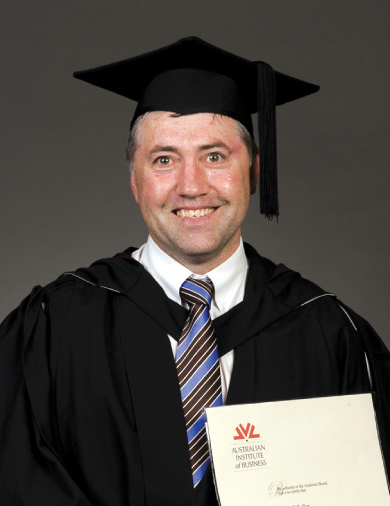 When Bank Manager John Bullen was looking for a challenge, he was pleasantly surprised to find an MBA program that was intense, focussed and would provide a practical outcome.
John had previously embarked on a business degree which took him six and a half years to complete. So when it came to commencing his MBA, it was the sprint, rather than an endurance approach that attracted him to AIB's 12 month program.
"The benefits of AIB were clear for me: weekend lectures, get it all done in 12 months, smaller groups and industry focussed participants and facilitators," said John.
Having been in his role for seven years as Manager – Rural/Risk Management at Rabobank Australia, John's passion for learning saw him wanting to improve himself and achieve a formal qualification at the same time.
"I felt that I had been in my current role for quite a while and wasn't getting the mental stimulation that I wanted. A lot of internal courses don't give you a formal qualification, and I wanted something that would keep my brain active and reawaken it," said John.
And what a reawakening it was.
"The program gave me a real boost and got me onto things that I had stopped doing. I had settled into a rut and stopped questioning things and the AIB MBA gave me a stimulus to start looking for better ways to do things. It was just what I needed."
While the 12 month intensity may seem daunting, John is reassuring of the benefits. "The structure of the AIB MBA and the intensity was such an advantage as it enabled me to always stay focussed.
"It was great to be achieving milestones regularly. The intensity means the relevance of each subject relative to other subjects was far more apparent and enabled me to bring it all together. The longer programs can cause you to lose sight of the big picture, how it all relates and the best way to apply the principles you're learning," said John.
As people in the market for an MBA would agree, it's critical that you feel you will be able to benefit from the knowledge sharing and skills of the facilitators. This is one of the areas AIB prides itself on: providing facilitators with valuable industry experience. John certainly benefited from this key advantage of the AIB MBA program.
"What they (the facilitators) were able to add to respective subjects and our understanding and their ability to generate discussion and moderate it was highly valuable," said John.
"They were able to steer us through the pathways and with a number of them being such high profile achievers in their own right, the access to their personal insights was fantastic".
"For me it was about the student group you're with too. One of the reasons I chose AIB was smaller groups and the nature of the participants. It's important that you can relate well with your group too."
If John has one piece of advice for anyone considering doing an MBA, it's "start now"!
"I procrastinated for many years and it was a mistake. An MBA is great for getting the balance between having enough experience that you can question theory and apply your ownunderstanding. Once you embark on something it goes so quickly.
"Life is always busy. The skills and insights of the AIB MBA are so invaluable that the earlier you can have them the better."