Kamla Rampersad De Silva
Managing change and business challenges through education
Industry:

Legal

Mode of study:

Teaching Centre

Location:

Trinidad and Tobago
created on 07/07/2015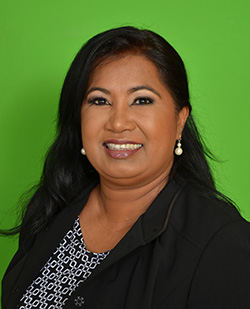 An experienced management and leadership consultant, manager and empowerment officer, Kamla Rampersad de Silva has a great passion for education and its power for changing business.
Kamla recently spoke at two change management international conferences (Las Vegas, 2010 and Florida, 2012) and three international conferences organised in Trinidad and Tobago by the Project Management Institute of Southern Caribbean Chapter in 2009, 2011 and 2013.
Now the primary consultant of her own consulting business, Kamla says many of the challenges organisations face are a result of a resistance to change, resulting in achieving the same ineffective result and remaining frustrated.
"Sometimes this is because people want to stay with what is familiar, but very often it is because they don't understand what needs to be changed," she said.
"The challenge is compounded by the fact that they are not able to envision what the future can look like, nor are they able to design new systems and processes to achieve different results."
She said AIB students often make a great deal of change in such organisations, as the practical learning model helps them to see their organisation with new eyes and to compare it to effective organisations they've come across as a result of their studies.
"This adds immediate value for students because the model encourages them to demonstrate the ability to critically analyse their organisation, identify the weaknesses in specific areas and make recommendations based on proven research," she said.
A qualified attorney-at-law, Kamla went on to complete an MBA instead of practising law, has worked as a newspaper journalist for more than 10 years, and has now been facilitating AIB's Leadership and Corporate Governance subjects since the first MBA intake at the college in 2010.
Her diverse educational background boasts an (ongoing) M Phil in public sector transformation, an MBA, a Bachelor of Law and a Certificate in Legal Education as well as certification in change management.
"It is a great pleasure teaching these courses through CTSCBCS because there is a culture of excellence at the college which is nurtured by the leadership team, and it is a great joy to see students grow and develop and see their world with new eyes," Kamla said.
"I have a tremendous appreciation for academia and the great contribution it makes to improving the way we do things in our organisations," she said.
"I was fortunate to lead two projects which won Prime Minister's awards for innovation and service excellence respectively in our public sector, and I am able to share with students that my successes were greatly influenced by what I had learnt through my MBA studies, since previous to that my career was as a newspaper journalist for over 10 years."
One of the elements Kamla enjoys about her role with AIB is the practical learning approach to teaching and learning because the syllabus is relevant to business.
"Over the past few years I have taught several programmes for different schools and so am able to compare the different approaches," Kamla said.
"I particularly like teaching for AIB because the teaching materials are very organised and the syllabus is relevant to business issues both at the MBA and BBA levels. The MBA helps students to be able to develop skills and competencies which they can immediately apply to their organisations to make a positive difference," she said.
"It is very fulfilling to see the growth which takes place in students when they begin to recognise the gaps and inconsistencies in their work processes and develop the confidence and competence to fix it."