Kaye King
How Kaye fit the MBA into her life
Industry:

Accounting & Finance

Location:

Queensland

Programme:

MBA (Human Resource Management)

Themes:

Duration,Practicality

Motivation:

Better Leader/Skills

Challenges:

Family Commitments,Work Commitments
created on 19/01/2015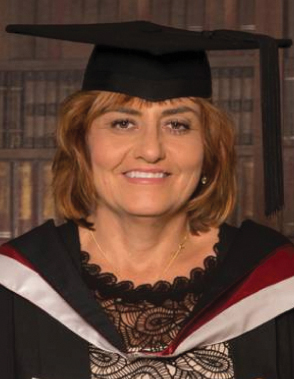 When Kaye King was looking to broaden her career prospects, she wanted to find an MBA program that she could fit in with her job and family commitments. She found the answer in the AIB MBA.
"I had previously completed a Bachelor of Commerce and I wanted to do further studies, but family commitments meant I didn't have the time," said Kaye.
"After researching a lot of MBAs online, I found the accelerated time frame, flexible approach and cost of the AIB MBA to be the best."
Taking on the MBA meant that Kaye had to make some adjustments to her lifestyle, but in the end she found the flexibility of the course allowed her to fit it into her schedule.
"I certainly had to adjust my lifestyle and reduce my social life. However, although the course took up more time than I originally thought it would, it was flexible and I found focusing on one subject per month an effective way to learn," said Kaye.
"I would study whenever I could find the time. Some weeks, this meant studying almost every day, but other weeks I would find it more difficult to keep this rhythm. In addition to family commitments, I was also working full-time throughout the MBA. However, I was lucky enough to have a flexible employer and I was able to take study leave when needed."
Kaye thoroughly enjoyed the learning process throughout the MBA and found it useful having online research facilities at her fingertips.
"I loved all the research. Doing the MBA gave me a fantastic opportunity to learn and having access to the online library was an invaluable tool that I used often," said Kaye.
Thanks to her studies, Kaye was able to take a broader strategic approach to her work and apply the skills in the workplace to progress and implement improvements.
"I have considerable management experience through my work at the Australian Taxation Office, but the MBA helped me broaden my horizon and look at things from different perspectives," said Kaye.
"As part of the MBA, we looked at models, theories and examples of successful businesses globally. I reflected on how these applied to my own workplace. I really enjoyed this applied learning approach as it challenged my thinking and made me question how I could improve what I was doing."
Kaye has held a number of different executive leadership and project management roles in the ATO. These roles have been at the strategic level and include strategic planning, productivity improvements and developing capability.
"I am currently progressing project work to build capabilities in dispute resolution to meet the organisation's goals. This is an important strategic need identified by the Tax Office and the AIB MBA has improved the way I approach this," said Kaye.
Kaye is now looking forward to new opportunities and pathways that she feels the MBA has opened for her.
"I have been working for the Australian Tax Office for 35 years and I saw the MBA as an opportunity to broaden my career prospects. I have only just completed my MBA, but I think it will help me take the next step in terms of career advancement," said Kaye.
"Having achieved what I did last year during the MBA, I feel that this was a huge success in itself. I don't have any fears of moving forward and I feel that I can apply my mind to do anything".