Matthew Pierre
Stepping up to the challenge of fast-tracked learning
Industry:

Tourism and Hospitality

Mode of study:

Teaching Centre

Location:

Trinidad and Tobago

Programme:

BBA

Themes:

Achievement,Methodology

Motivation:

Personal achievement

Seniority:

Low-Level
created on 07/07/2015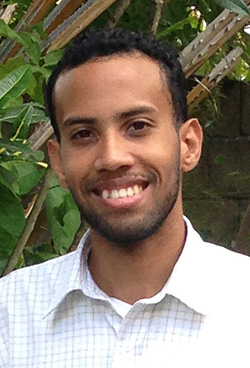 Having previously worked and studied at TTHTI, one of AIB's teaching centres in Trinidad and Tobago, Matthew felt it was a perfect fit for him to pursue further training with the institution.
He chose AIB's BBA because he believed it was the best available programme to pursue further education within the Tourism and Hospitality industry, with the bonus that it is also a fast-tracked degree.
"I never thought I could have learned an entire subject in a short space of time," Matthew said.
"Because of the experience of studying a fast-tracked degree, I can't ever see myself taking a whole semester to learn a subject as I'd previously been accustomed to."
A self-described 'chronic procrastinator' who doesn't like to read, Matthew said he found the BBA challenging but achievable, and completed the programme by making the time to do it.
"I would read while travelling to work, sometimes an hour after work, and then again before bedtime," he said.
Asked about the greatest highs and lows of his BBA journey, Matthew said he found the Final Project at the end of the degree the most challenging part of the programme, as it required much time and commitment.
Overall, however, he found the BBA achievable, and says the challenges helped him to grow.
"The BBA was well-grounded, the courses were well-suited for study, and it was very well-structured and challenging," he said.
"The best aspect of the programme was independent study and assignment work where everyone took full responsibility for the quality of the work presented."
Learning at a teaching centre provided many key benefits for Matthew, who says he preferred the experience to online learning because it was more personal, interactive and familiar.
"I felt more confident in what I learned, and in my interpretation of information through this mixture of online, self-teaching and lecturing at the teaching centre," Matthew said.
"What appealed most was learning how developed countries carried out tourism business in comparison to how my country did tourism-related and general business," he said.
"Learning this, I expected my view of business would change and make me more inclined to adopt better, international business practices."
Matthew is using his newfound skills within his current role and has previously used the BBA to support him in his previous role as Operations Coordinator at John Paul II Centre on Fatherhood.
"I've used the skills learnt in my BBA to plan and execute a 'Catholic Businessmen's Forum' and I am currently using these skills to create a business plan, and a fundraising proposal for a Catholic Institute," he said.
"Overall the BBA programme made me more attentive to service-based projects and organisations, and makes me think critically and complete these tasks with integrity because of the high standard of the subject-related professional knowledge they contain."