Michael Glover
Michael steps out of comfort zone and sees results with AIB MBA
Industry:

Consulting & Strategy

Mode of study:

Distance Learning

Location:

Queensland

Programme:

MBA

Themes:

Duration,Methodology,Practicality

Seniority:

High-Level
created on 19/01/2015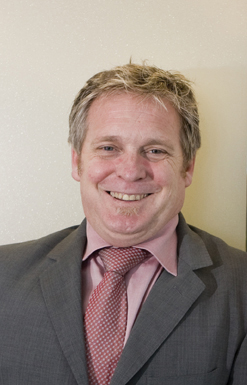 Strategy, innovation and leadership were some of the areas that Michael Glover wanted to develop when he commenced his MBA.
With a commerce and accounting background, Michael was looking to expand his knowledge and apply new skills in his role as Chief Operating Officer and Company Secretary for City North Infrastructure in Queensland.
Aware of the Australian Institute of Business' (AIB) "superb" reputation, Michael was attracted to the accelerated 12 month format and the individual subjects that are offered within the course.
"I really liked AIB's accelerated approach of tackling one subject a month and I was very interested in the subjects they were offering – I thought they were fantastic," said Michael.
"I chose to study with AIB because I wanted to do an MBA that would improve my business skills and enable me to apply new knowledge and deal with the changes that were happening in my business."
Michael was very focused during the MBA, completing readings for each subject as well as taking advantage of the additional reading materials provided by AIB, and found them to be incredibly beneficial.
"I would put in about 8 – 8.5 hours a week of studying and researching. The subjects were extremely interesting. The more I read on processes, the more I wanted to learn, and the supplementary readings allowed me to do so. I would definitely recommend anyone else studying the MBA with AIB to read the supplementary readings provided. They really help to give roundness to the subject that you're studying."
For Michael, one of the standout experiences of studying the AIB MBA was the support provided by the student administration and academic teams throughout his studies and writing of his final project.
"The support mechanisms you receive from AIB are great. The student administrators and the academics are very prompt and effective with getting back to any questions you have. As I was studying through distance learning this was invaluable and it was fantastic to have that support available," said Michael.
"For my final project I picked a topic right outside my comfort zone, and the AIB project supervisor was very supportive during the process and provided really good guidance. I found the academics to be fantastic and they would make themselves available to fit in with my time. In general, AIB itself was very supportive throughout the whole MBA process," said Michael.
Michael was faced with a challenging role when the company he worked for began offering redundancies to employees. Michael took the opportunity to apply what he had learnt from the AIB MBA and put his new skills into action.
"My studies with the AIB MBA helped me with that process. I was able to look at the situation and think about how it was impacting other people in the organisation. I made sure that I had support mechanisms in place and available to the relevant people.When I looked back after the process I was able review the process we had taken and I could see that we had followed the strategy we had put in place and achieved the desired objectives of that strategy," said Michael.
Currently wrapping up his project, Michael is now seeking the next challenge in his career and believes completing the AIB MBA gives him an edge when applying for new positions.
"The AIB MBA offers the opportunity to analyse your own work experiences with theories taught in the syllabus, and at a very high standard. I would definitely recommend the AIB MBA. Whether you are looking to do a specialist a generalised MBA course they offer both".