Murali Kumaran
Building Business Expertise with an AIB MBA
Industry:

Consulting & Strategy

Mode of study:

On-campus

Location:

South Australia

Programme:

MBA (Entrepreneurial Management)

Themes:

Duration

Motivation:

Better Leader/Skills

Challenges:

Frequent Traveller

Seniority:

High-Level
created on 07/07/2015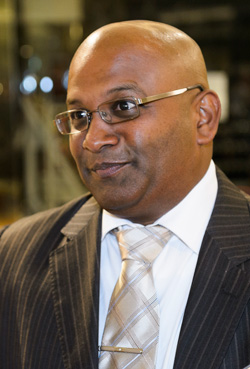 A business person may look to undertake an MBA for a multitude of reasons. MBAs provide an unparalleled understanding of how the business world works – current executives, aspiring executives and entrepreneurial hopefuls can learn a lot from an AIB MBA. Murali Kumaran is just one example of a student with ambition, who chose to investigate higher education as an opportunity to grow and strengthen his business.
"I was looking into around 6 MBA programmes, three of which were being offered over a short period of time – around 12 to 18 months. That was a key for me – I wanted the opportunity to complete my qualification in a short period of time."
Though the duration was a drawcard due to the requirements of balancing work and family commitments, Murali chose AIB after meeting some of the lecturers who facilitate the classes within the AIB MBA programme.
"When I spoke to the facilitators, I realised that they were still professionally working in their field – they weren't just academics, though several of them are, but they were currently active in their industry. That was what I wanted – I wanted that real time data, information, and knowledge from people who were experts in their field."
As an on-campus student, Murali appreciated the level of access that he had to his facilitators throughout the programme.
"I think we challenged every single one of our facilitators without a doubt, but in all credit to them they all rose to the occasion, and all were able to share their knowledge and impart their wisdom onto us and really explain the text in a way that we could then relate it directly and take it home that night, that evening, to our business and apply it."
There were a few key reasons why Murali chose to devote the time to attending weekend workshops by studying on-campus, aside from the access to facilitators.
"With schedules, traveling, airports, hotels, conference rooms and so on, I just found having dedicated time in the classroom for me worked extremely well."
Another advantage of Murali's face-to-face learning experience was the opportunity to network and build relationships with his classmates.
"I had very good support from my classmates – we were able to bounce ideas off each other, and we worked very well together. It was a cohesive group. We came from completely different fields and industries, which is great for in-class discussions, assignments and projects, because we were able to look at things analytically from very different segments instead of all being steered from one direction. That was great for classroom discussion."
This diversity in the classroom also helped Murali to clarify some of the concepts that were less common in his own business.
"Some concepts that I probably didn't understand that clearly, I was able to understand far better because I could see the different perspectives and the outcomes they would have. I found that networking to be a truly invaluable experience."
Now that he's finished his MBA, Murali is considering his future education options whilst continuing to grow his business.
"My career and my own business have just improved immensely. The completion of my studies has now prompted me to go and look at doing further studies, and I've been looking into doing my DBA with AIB."
"The fact that I've got this MBA, and I've graduated with a specialisation in entrepreneurial management, has meant that I have taken my business to the next level – now it's a full-time operation for myself, and I'm employing people. I see that as a great achievement."