Shereena Khan
MBA helps Operations Manager reach senior level
Mode of study:

Distance Learning

Location:

Western Australia

Programme:

MBA (Logistics and Supply Chain Management)

Themes:

Career Goals

Motivation:

Better Leader/Skills,Promotion

Challenges:

Family Commitments

Seniority:

High-Level
created on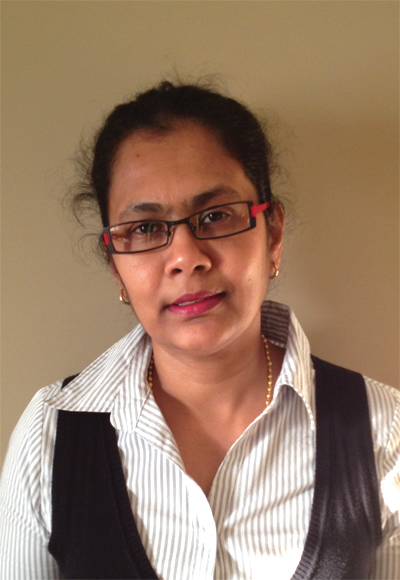 In order to take her career to the next level and reach a senior management position, Shereena Khan decided that studying an MBA would be the best way to achieve this.
Taking on an MBA at the Australian Institute of Business proved to her now current employer that she has what it takes to enter into a senior role.
"Six months after I began the MBA, I was offered a position as Senior Operations Manager for Toll Global Logistics after having worked as Operations Manager for Blackwoods. The fact that I was studying an MBA definitely helped me get the job," said Shereena.
In her role as Senior Operations Manager, Shereena looks after the operations of multiple businesses for Toll Group in the western region of Australia. Whilst she specialises in operations management, through studying at AIB she now has a greater level of understanding about how other areas of the business operate and is able to contribute more at a strategic level.
"I now have a clear understanding of the strategic overview of the business and I know a lot more about other areas, such as finance and marketing," said Shereena.
"Previously, I could only contribute the bare minimum to management meetings, but the MBA has given me so many great ideas that I can contribute to all areas of the business."
Working and studying full-time, as well as having a family meant that Shereena had to plan her time carefully. Effective planning and organisation made fitting the MBA into her schedule manageable.
"Before I began each unit, I would make up a Gantt chart, which mapped out my assignments, exams and study time," said Shereena.
"I didn't want my studies to take away from spending quality time with my family, so I would wake up early to study and I would spend my weekends reading a lot. My family was very supportive and I couldn't have done it without them."
As the course progressed, Shereena found that she was able to study more effectively, which also contributed to making her studies more manageable.
"I think that my reading speed increased significantly and my ability to focus shifted to a whole new level. Initially, I felt like there was a lot to take in, so I read a lot of books on speed reading and how to maintain focus," said Shereena.
Whilst the course was challenging, Shereena now reaps the rewards of her hard work.
"The MBA is a great asset to have professionally; it adds weight to your résumé, makes you more marketable and changes your approach towards work. It has empowered me with self-confidence and I would highly recommend the AIB MBA to anyone who is interested".