THURSDAY, 4 FEBRUARY 2021
The Teaching with Technology Day, hosted by the Australian Institute of Business, was a day-long free event devoted to exploring, showcasing and discussing new ways of doing things in the online teaching and learning space using different technologies.
The day was filled with rich and exciting sessions for experienced online educators and beginners alike, with the program including keynote speeches, single sessions and breakout rooms. You can watch the session recordings and access the resources below.
As long-term leaders in online education, the Australian Institute of Business ensures the quality of the student experience and learning outcomes by always seeking new ways to engage students. In an online environment, we are mindful that technical innovations can bring new and exciting opportunities for us to provide students with a fantastic, quality learning experience.
KEYNOTE 1: THREE RECIPES – ACTIVELY ENGAGE LEARNERS WITH FREE ONLINE TOOLS
Presented by Alexandra M. Pickett, Director of Online Teaching, SUNY Online, State University of New York
In this session, you will explore a menu of ideas you can use to sprinkle some open pedagogy into your online instruction. You will leave with 3 recipes ready to enhance online learner engagement in your online content, interactions, and feedback by creatively using simple and freely available online tools.
Open Pedagogy: Three Recipes Google Drive folder has all session links, slides, how-to "recipe cards" and examples of the free tools.
KEYNOTE 2: LEARNING ANALYTICS
Presented by Professor Shane Dawson, Executive Dean Education Futures and Professor of Learning Analytics, University of South Australia
Learn about the application of learning analytics to inform learning design, educational technologies and overall teaching and learning quality.
Access the Learning Analytics presentation slide deck. Resources mentioned in this session include:
OnTask – open source tool to automate triggers for the delivery of timely, personalised and actionable student feedback throughout their participation in a course. Different versions and a demo trial available.
OVAL – open source video annotation tool for students (see Online video annotation for learning for information)
SNAPP – social network visualization tool for various LMS forums, to see how learners are interacting with each other and the instructor
HOW TO CREATE AN EFFECTIVE VIDEO
Presented by Rohan Cassidy,
Learning Materials Developer, Australian Institute of Business
FEEDBACKFRUITS: PEER REVIEW & GROUP MEMBER EVALUATION
Presented by Abdullah Dilimi & Sean Ebejer-Redmen, FeedbackFruits
Get introduced to the FeedbackFruits tool suite which supports evidence-based course designs through peer learning, interactive video and peer assessments.
SENTIMENT ANALYSIS OF FEEDBACK
Presented by Dr. Vishal Rana, Lecturer in Human Resource Management and Leadership, Australian Institute of Business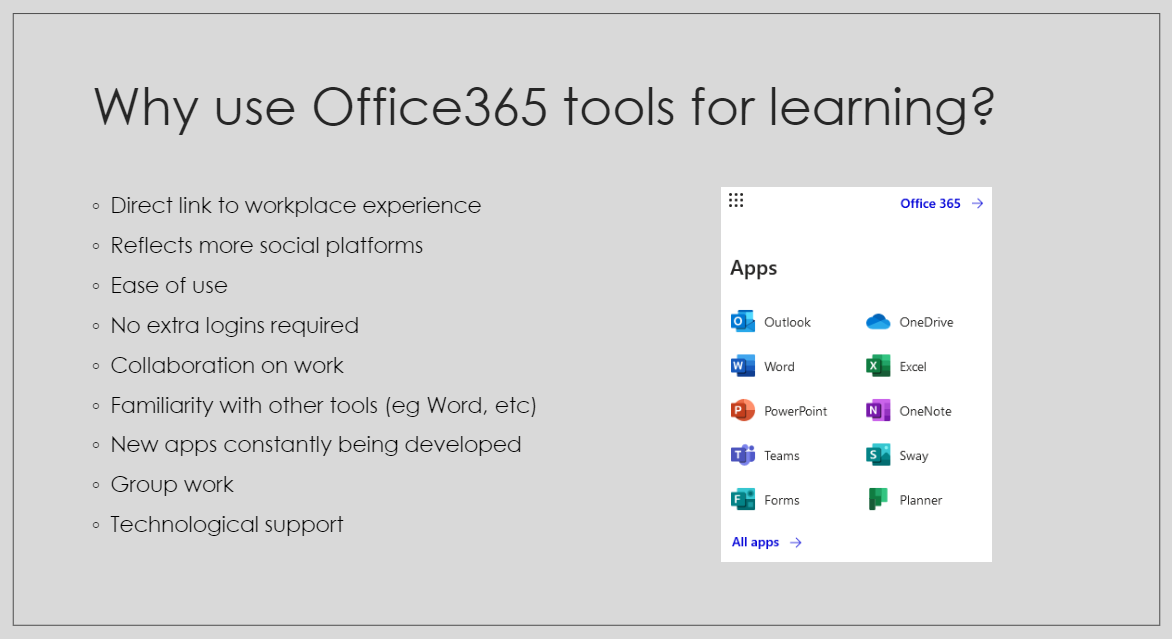 USING OFFICE365 TOOLS IN YOUR TEACHING
Presented by Brigitte Sloot & Edward Willson, Australian Institute of Business
There is no recording of this session but you can access the Using Office365 presentation slide deck.