AIB Industry Guest Speaker and Industry Partner
Senior Provincial Executive Director, Patient Care Delivery, BC Emergency Health Services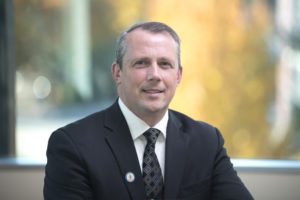 Paul was born and bred in Ireland but moved to Canada at age 19. Originally intending to spend just a year away from his homeland, instead, he found himself settling down. He began working for Price Club – then Costco – and discovered that the retail industry suited him. By 22, he had started a family and has remained in Canada ever since.
In 2000, while still maintaining his retail management position, he took up a role as a part time paramedic in a very remote part of the province. In 2005, he left Costco to go full time with BC Emergency Health Services in Vancouver, and has since worked his way up through the organization, currently serving as the Senior Provincial Executive Director of Patient Care Delivery.
BC Emergency Health Services was created in 1974 and is responsible for all pre-hospital 911 emergency requests for service in the Canadian province. They also respond to requests for inter-hospital or inter-facility transfers to move patients between facilities or transfer them to higher levels of care. They respond to around half a million requests for service annually, either by ambulance, air or sea as the location dictates. Paul's role is extremely important as he is responsible for the 4,000 paramedics who provide direct patient care.

Meet all AIB's  Industry Guest Speakers.