As an AIB graduate, there are a number of ways you can maintain your connection with your alma mater, continue your career development journey in conjunction with AIB and contribute to the future of the school.
AIB Review | Industry Publication for Alumni

AIB Review is our very own digital quarterly industry publication that brings the expertise and insights of the AIB community to trending issues in the business world. It is part of AIB's commitment to deliver ongoing value to alumni and the wider student community. Since its inception, AIB Review is now distributed to over 200,000 alumni, current students and community members, with readership growing with each issue.
As the AIB alumni community is filled with seasoned professionals from diverse backgrounds, with enormous collective experience among them, alumni members are invited to contribute written articles for publication in AIB Review. This allows alumni to develop their authorship skills, showcase their unique professional insights and knowledge, and have their reflections on current industry trends read by our large community of business professionals.
AIB's Alumni Industry Panels were formed in 2020 to harness the expertise, insights and experiences of our diverse and highly skilled alumni members, and consult on current trends plus challenges within their industries. The five panels convene quarterly to consult on what's happening in the business world right now, how to evolve the MBA learning content based on that, and how AIB can continuously improve the student experience for all. The panels are:
Leadership and Human Resource Management Alumni Panel
Marketing and Entrepreneurship Alumni Panel
Finance and Corporate Governance Alumni Panel
Operations and Supply Chain Strategy Alumni Panel
Customer Experience (CX) Alumni Panel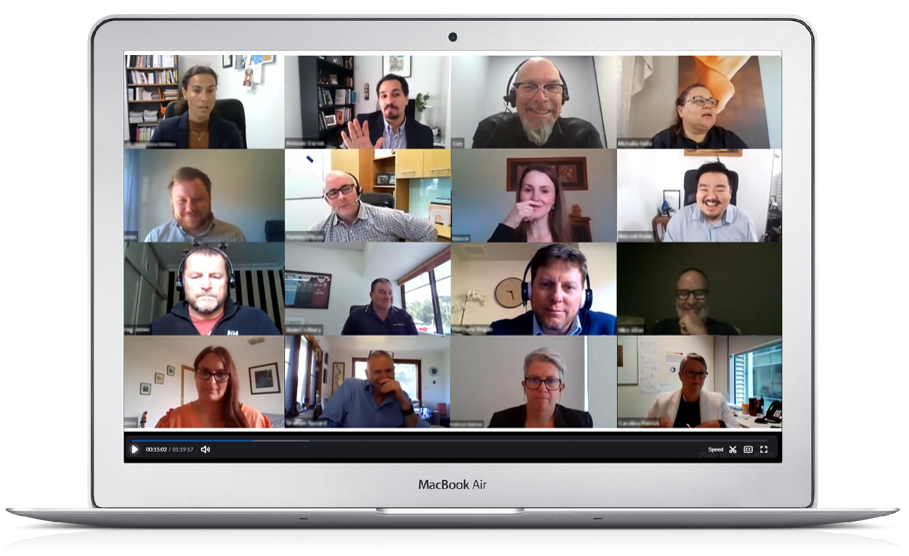 Chaired by Discipline Leaders and AIB's Alumni Manager, the panels have proven to be a highly engaging and mutually beneficial initiative, allowing the members to network with fellow alumni in their field and deepen industry insights through shared knowledge. For AIB, ongoing alumni consultation has proven to be highly beneficial in the development of new initiatives, the implementation of relevant case studies into subject learning, and in helping to steer the future of AIB.
AIB's Career Mentorship initiative leverages the school's large, diverse and incredibly accomplished professional network of students and graduates to provide peer study and career support within the AIB community. On top of peer collaboration during the study journey and networking opportunities for alumni, the mentoring program provides an added opportunity for knowledge and skill sharing within the AIB community, supporting the professional development of participants and facilitating greater network connections.
The role of the mentor is to:
Demonstrate interest, helpful intent, and involvement. When you talk with your mentee, clear your mind of unnecessary thoughts and mute potential distractions/notifications so that you can offer your undivided attention.
Set the learning climate and establish rapport by learning professional information about your mentee (hint: take notes after each session).
Focus on strengths and areas of opportunity rather than limitations.
Assist in establishing realistic and attainable expectations, striking a balance between habit-forming, reach and stretch goals (see Goal-Setting Framework).
Hold your mentee accountable for commitments and goals. Consider a gentle nudge one week in advance of agreed-upon deadlines.
Listen actively – ask lots of questions to help the mentee unpack the discussion!
Provide guidance based on past experience – while the intent is not to make this about you, mentees may find value in learning from your successes and lessons.
Encourage the viewing of issues from a variety of perspectives.
Give constructive, specific feedback, and suggest areas for improvement.
Act as co-learners and ask for feedback on their contribution to the relationship.
Prepare for, and reflect between, meetings. Be sure to consistently evaluate the effectiveness of your mentoring and adjust your style, as needed.
Use LinkedIn to connect the mentee to others who may provide additional support or advice.
Agree on and commit to the ground rules set out in the mentoring agreement.
Be yourself and allow your mentee to do the same.
For more information on the 2023 AIB Career Mentorship Program, contact mentoring@aib.edu.au.
Contact our Alumni Team for more information on Alumni Engagement
EMAIL US