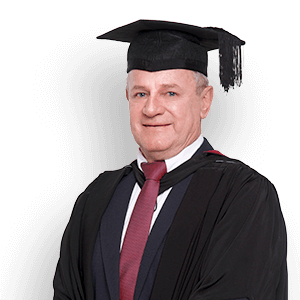 DOCTOR OF BUSINESS ADMINISTRATION
The Doctor of Business Administration (DBA) is a research course designed for experienced managers. It offers an opportunity to take your business and management knowledge and understanding to a higher level and, importantly, to relate it closely to your workplace needs or industry and practice. The DBA offers a doctoral qualification that is more directly linked to the world of work.
The Doctor of Business Administration is accredited within the Australian Qualifications Framework (AQF) and is an AQF Level 10 qualification.
Qualification Type
Research degree
Duration
Full time 3 years
Part time 6 years
AQF Level
Level 10
Delivery
100% Online
The course consists of the following elements:
Research Orientation
Coursework subjects
Research proposal
Ethics application (if applicable)
Research thesis of 50,000 to 80,000 words.
See below for an example course structure. Throughout the candidature journey you will be presenting your research and research progress to AIB's research community.
You will be accompanied and supported on your research journey by a supervisory panel including an expert Principal Supervisor who has the primary responsibility for managing the supervision process as well as Associate supervisor(s). Regular interaction and communication with the supervisors occurs during the research journey to provide appropriate academic support, monitor progress and performance, and ensure appropriate outcomes. Contact will also be encouraged with other research degree candidates through online discussion forums and interactive webinars among others.
What qualifications do I need to be accepted?
A Master's in Philosophy; OR
A Masters' Degree (AQF Level 9) at Credit or higher-level Grade Point Average with an appropriate research component (for example, research methods subject or research project); OR
A Bachelor's Degree with Honours (AQF Level 8) with minimum upper second class honours or equivalent.
English language requirements must be met. For all admission requirements, please review the DBA Course Brief.
The first step in the application process is to conduct a self-check on the minimum entry requirements for your selected research degree. You will then need to identify a suitable supervisory panel. You should make contact and provide a research outline that will assist the potential supervisor to ensure suitability of your research topic. Once you have identified a suitable supervisory panel, we encourage you to proceed with your full application. Find out more and apply
Want to learn more about the Doctor of Business Administration?
Find out more