27 Nov 2017
AIB Hosts ANZAM Mixed Methods Research Workshop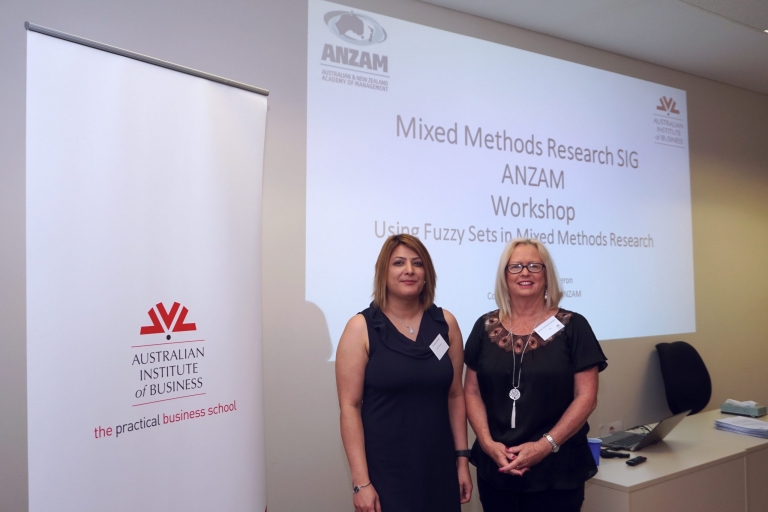 On November 10, the Australian Institute of Business (AIB) hosted a regional ANZAM Mixed Methods Research SIG Workshop in Adelaide. ANZAM, the Australian and New Zealand Academy of Management, is the peak professional body representing management educators, practitioners, and researchers in the region, and has several special interest groups (SIG). Mixed methods research is one of these SIGs and is convened by AIB's own Associate Professor Ros Cameron, Head of Discipline in Human Resources Management.
In this hands-on workshop, A/Prof Cameron gave an introduction and overview of mixed methods research, before handing over to Dr Farveh Farivar of Curtin University who provided a detailed breakdown of the principles and theories of fuzzy-set qualitative comparative analysis (Fs/QCA). A case-based analysis technique, Fs/QCA is both an approach and an analytic method which stands between quantitative and qualitative research. It is based on set theory and logic, designed to investigate social systems characterised by causal complexity. Fs/QCA is gaining popularity in management fields and is increasingly used in top management journals.
Mixed methods research is also an emerging methodological movement which has gained significant momentum in the last 10 years. In fact, in 2018, AIB will be running the first ever postgraduate mixed methods course in business and management. It will be led by A/Prof Cameron who has published widely in the area and has been chief investigator on several large scale mixed methods research projects in the fields of human resources management and workforce development.
The workshop was attended by ANZAM members from AIB, University of Adelaide, University of South Australia and Flinders University.
Find out more about Associate Professor Ros Cameron, her specialties and publications here.
Photo features Dr Farveh Farivar of Curtin University and Associate Professor Ros Cameron of the Australian Institute of Business.