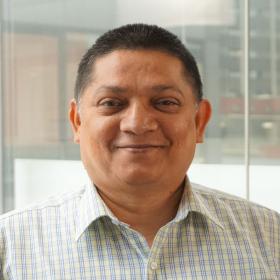 Dr. Mamun Ala
PhD (AppEco), MPhil (Mgmt), MEco, MBA, Med, BA (with Eco & English)
Lecturer in International Business and Strategic Management
---
Research and teaching specialties
International Business, Export Management, Leadership, Strategic management, Human resources, Microeconomics, Macroeconomics, Entrepreneurship, Quantitative Methods, Research methods, Public policy
Biography
Dr Mamun Ala has a PhD in Applied Economics (international trade regulation) from the Centre for Regulation and Market Analysis (CRMA), University of South Australia (UniSA). His other qualifications include MPhil in Management, MEco, MBA, MEd and BA. He also holds a certificate in Effective Online Course Design from Oxford University, UK.
Mamun has more than eight years of experience teaching in Australian higher education institutions. He brings a wealth of academic experience working with the UniSA and Flinders University. He has designed and taught various face-to-face and online business courses in postgraduate and undergraduate levels including International Business, International export Management, Human Resource Management, Strategic Management, Leadership, Entrepreneurship and Small Business, Marketing, Microeconomics, Macroeconomics and Quantitative Methods.
Mamun is an active academic researcher. His current research and consultancy interests include managerial performance analysis, entrepreneurship, international competitiveness, micromarketing, political economy, regulation and industrial policy.
Email: Mamun.Ala@aib.edu.au
Publications and Presentations
Ala, MU 2017, 'The use of vulnerability framework in exploring managerial performance gaps in the Australian retail industry', Peer-reviewed paper presented at the 2017 CARMA Conference Australia, 16-17 November 2017, University of South Australia, Adelaide, Australia.
Ala, MU 2017, 'Improving the status of the translation profession in Australia – the role of translation education and policy', Peer-reviewed paper presented at the XXI World Congress International Federation of Translators, 3-5 August 2017, Brisbane, Australia.
Ala, MU 2016, 'The status of translation education in Australia in comparison with the EU, the USA and Canada', Peer-reviewed paper presented at the AUSIT National Mini-Conference, 18-19 November 2016, Monash University, Melbourne, Australia.
Ala, MU 2016, 'The role of industrial policy in promoting innovation in knowledge-intensive sectors in least developed countries facing global stringent IP regime: the case of Bangladeshi pharmaceutical sector', Peer-reviewed paper presented at the 9th Annual Conference of the Academy of Innovation and Entrepreneurship, 1-2 September 2016, University of Sydney, Sydney, Australia.
Ala, MU 2014, 'A conceptual framework for a dynamic translation industry in Australia in the era of globalization', Peer-reviewed paper presented at the AUSIT Biennial National Conference, 1-2 November 2014, University of Queensland, Brisbane, Australia.
Ala, MU 2013, 'A Firm-level Analysis of the Vulnerability of the Bangladeshi Pharmaceutical Industry to the TRIPS Agreement: Implications for R&D Capability and Technology Transfer', Procedia Economics and Finance, vol. 5, pp. 30-39.
Ala, MU 2013, 'Towards an optimal TRIPS-compliant industrial policy for the pharmaceutical industry in Bangladesh', Public Policy in the 'Asian Century' Conference, 9-10 December 2013, Melbourne School of Government, University of Melbourne, Australia.