Mark Bouris Shares His Lessons for Success with AIB Graduates
01 February 2018
Last modified 23 March 2023
Estimated reading time: 4 minutes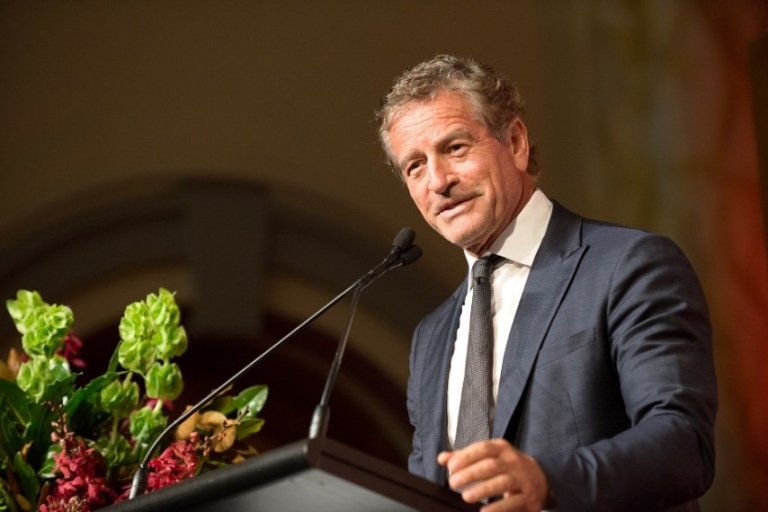 At the AIB Graduation Ceremony on November 24, 2017, keynote speaker Mark Bouris addressed the new graduates, speaking eloquently on the topic of success and sharing the lessons he's learnt throughout his life. Mark is the Executive Chairman of Yellow Brick Road Group, a full-service wealth management company that covers home loans, financial planning, insurance, superannuation and investments. He's also a Non-Executive Director of TZ Limited and has established a successful career around providing smarter solutions for consumers.
Wealth Wizard
,
 The Yellow Brick Road to Your Financial Security
 and 
What it Takes
. In Mark's keynote address at the AIB Graduation Ceremony, he explained why success is so much more than the money you make and the lifestyle you lead. As for how to achieve it, Mark drew on the three lessons he's taken through his life, courtesy of his old mentor, Kerry Packer. They were as follows.
1. Find purpose in your work
Reflecting on his experience with Wizard Home Loans, Mark spoke about how a business' function and purpose can be very different. He'd studied the ins and outs of the home loan industry, but all of that technical knowledge, Mark explained, was secondary to the real purpose of the business. In the case of Wizard Home Loans, as Packer had it, the purpose was hopes and dreams. People buy a house to be their home and build the life they want. So, to be successful as a home loan provider, one must be empathetic to those dreams. That principle of empathy applies to any business. Be empathetic to the people you serve, whether that's a client, internal stakeholder, colleague or family member. By doing so, you'll keep your eye on the real purpose of the business.
2. Don't let the fear of failure hold you back
Growing up, Mark's ambitions were to become a sportsman and labourer, but his parents had other plans for him, encouraging him to enrol at the University of New South Wales. He remembers not wanting to go, much less understanding the commerce degree in which he was enrolled, but once there, he rose to the challenge. He studied full time and worked part time to help with household expenses. Once he was qualified and employed full time, he continued to study, doing both a law degree and, incredibly, a master's degree at night around his working hours. Mark's Master's degree introduced him to the concept of capital markets, and when the Cameron Inquiry changed the Australian landscape, he was able to harness that knowledge to start Wizard Home Loans. For many, working full time while studying a degree, let alone two degrees, can seem so daunting that the fear of failing prevents them from starting. But to achieve success, one must not fear failure, because fear can restrict imagination and creativity – two important qualities of great, innovative leaders. Those challenges, Mark explained, were immensely valuable in the future path to success. Failure is to be respected and learned from, but not feared.
3. Hold yourself accountable for your success
Lastly, Mark spoke about the importance of accountability. In Mark's case, an accountability plan was crucial to transforming Wizard Home Loans into a company that General Electric wanted to buy. Addressing our MBA graduates, Mark urged them to hold themselves accountable to their career goals by drawing up a plan of where they want to go. The MBA, he said, isn't the end: it's the beginning. The next step and the next achievement are vital to success. Whatever the next step is, he explained, it will be more powerful if it comes with a hard deadline. We perform best under pressure because it forces us to get creative with our time management, our relationships and our priorities. With an MBA under their belts, and those three elements before them, Mark assured our graduates that they have all the elements they need for success. As someone who's made a glittering career out of helping people reach their dreams, we're sure his advice will prove invaluable.
Explore more AIB
events.
In 1996, Mark founded Wizard Home Loans and turned it into Australia's largest non-bank lender. He became well known for his appearances in Wizard Home Loan commercials, and further raised the company's profile through corporate sponsorships including key AFL and rugby teams. In 2004, he sold the business to General Electric for $500 million and made the BRW Rich List, but remained as Chairman until 2009. In recognition of his significant service to the finance industry, particularly the home loan mortgage sector, education and charitable organisations, Bouris was appointed a Member of the Order of Australia in 2015. And as well as being a known media personality thanks to his appearances on The Apprentice Australia and The Celebrity Apprentice Australia, Mark is the author of