We're here for you
We understand that study can be challenging at times. This is normal and many students experience periods of stress or anxiety. The most important thing to remember is that the AIB team (academic and non-academic) are here to help! With some assistance, you will be on your way and progressing through your studies in no time. Help and support is available in several different ways so please feel free to have a look around this and the Study Support section of the Student Handbook.
There are several key policies and procedures, available on the AIB website, which you are encouraged to refer to. These are:
We know that studying in addition to a full family and career commitments can have its ups and downs. As an AIB student, you have several resources and support mechanisms available at your fingertips. The main thing to note is that every one of the AIB team members are here to support you, and we encourage you to give us a chance to assist whenever you need a helping hand. We're in this together and we will support you every step of the way.
One of the key resources is our Student Safety and Wellbeing website. This site lists some of the main support and resources for ensuring your mental wellbeing, tackling and reporting sexual harassment and sexual assault, coping with the current COVID-19 crisis, maintaining a solid work/life balance and cyber safety, among others.
In addition to those listed above, there are also several additional support options which we can provide, depending on your circumstances and timing of your request. For example, extending your assessment deadline to give you just a little breathing space or providing you with a medical/compassionate grade, if you are ill or experiencing an exceptional circumstance that's negatively affecting your studies. The key is communication! Please reach out to either your online learning facilitator or a member of our Student Central team or for private and confidential support, Converge International.
Confidential counselling through Converge International
As part of our commitment to supporting you through your journey with us, you and your family have complimentary access to a confidential counselling service through our Employee Assistance Program (EAP) provider, Converge International. This friendly and informal counselling service is delivered by qualified and experienced professionals who have extensive training in counselling and coaching.
You can access this service either via telephone, face-to-face (if you're in Australia) or via video conferencing, for example Zoom
Contact Converge International on 1300 687 327 (within Australia) and +613 8620 5300 (outside of Australia), or make an appointment online.
You might also be interested in…
We recognise that sometimes you just need to share your study experience or questions with someone who is also studying. We wholeheartedly encourage you to reach out to your fellow students with that nagging question, or to simply to say hello to others in your area, subject, or course.  Your fellow students will be more than willing to help you put two-and-two together, and they know exactly what the highs and lows of study is like.
You can connect with your fellow students in several ways (our Forums & Communities page is a good place to head to for more information and links):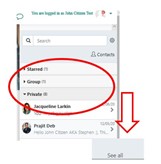 Connect to students in your current subject via your class discussion forum
Connect with fellow students from specific subjects or regions via the Community Hub. This site also lists the main AIB social channels where you can connect with both current students but also alumni. If this is a little overwhelming, a good place to start is our main AIB MBA Students Facebook group.
You can send a private chat using the chat messaging function in the student learning portal – just click on the speech bubble icon at the top right, or
You can start a group chat – here you can connect with other students in the learning portal rather than setting up a social media platform. Again, click the speech bubble icon to open the messaging window
The AIB Career Mentoring Program
Annually, a Career Mentorship Program is launched which enables graduates of the AIB MBA to mentor current students with a focus on career development, an enhanced study experience and networking. To express your interest in the next program, email mentoring@aib.edu.au.
You might also be interested in…