Partner, Corporate Finance, BDO Australia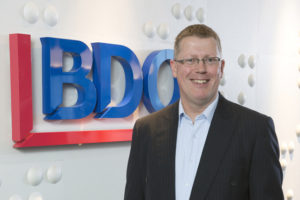 David leads the Corporate Finance team at BDO in South Australia.  His knowledge across business value drivers means he approaches clients from an informed perspective, providing insight from the outset.
David provides support to fast growth businesses, including advising on valuations, mergers and acquisitions.  He has significant experience with engagements for both publicly listed and private companies.  Highly regarded by his peers, David has presented to industry bodies including the Institute of Chartered Accountants in Australia, CPA and the Taxation Institute of Australia.  He also provides insights towards BDO's specialist economic and business survey publications, driving engagement with industry, government and policy makers.
David commenced his accounting career as a tax consultant with a big four firm, leaving to become a Partner with a smaller firm in 1994.  He developed significant business advisory and accounting experience, and joined BDO in 2013, leading Corporate Finance and supporting the Private Clients teams
Meet all AIB's  Industry Guest Speakers.