AIB Industry Guest Speaker and Industry Partner
Founder and Managing Director, The Edible Blooms Group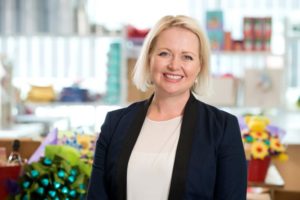 In 2005, Kelly teamed up with her sister Abbey to create Edible Blooms and spread joy across the continent. Sales of their fabulously fresh, beautiful bouquets hit $1 million in their first full financial year and have grown steadily since, with the company now employing 50 staff across Australia and New Zealand.
The multi-award-winning company is a former Telstra Australian Small Business of the Year and Kelly was also named South Australian Telstra Business Woman of the Year in 2009. She was personally invited to spend two weeks at a leadership retreat with Sir Richard Branson at Necker Island in the Caribbean (work-shopping business ideas with the founder of Netflix, Amy Cuddy and founder of Girls Who Code, Reshma Saujani). She was also chosen as the face of Telstra's 2016 nationwide business technology marketing campaign 'Do Your Thing'.
Known throughout Australian business circles as hardworking, generous and endlessly positive, Kelly is a devoted wife and mum-of-two with a passion for making the world a little bit happier with every hand-crafted Edible Bloom. Her team says she also holds the world record for the most Lindt chocolate balls eaten in one day, but that's another story…
Lessons in Entrepreneurship

Meet all AIB's  Industry Guest Speakers.