AIB Industry Guest Speaker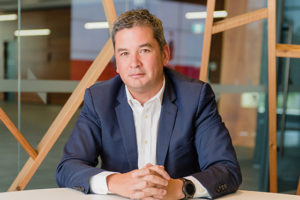 Lee has over ten years' experience innovating ICT Sustainability Strategies and Energy Efficiency Programs for mid-to-large enterprises.
His focus is on monetising sustainability both internally and for the Fujitsu client-base as a means to incentivise the stakeholder engagement required to drive sustainable change. He Co-Authored the report with Telstra called SMARTer2030 which looks at how technology available today across eight industry sectors can enable Australia to meet our Paris climate commitment targets. He has also been key in facilitating the first ever NABERS Energy Rated Data Centre and also promoting the tool both internally and externally. Recently his project Digital Owl won the national Smart Tech Industry Innovation Award for its potential in using video analytics, AI (Artificial Intelligence) with commercial drones to help NSW Government find and protect endangered species.
He is a member of the Fujitsu Global Sustainability Leadership Team, is the Global Lead for ICT Sustainability Consulting and is also responsible for managing the regional sustainability strategy and targets.
Meet all AIB's  Industry Guest Speakers.