AIB Industry Guest Speaker
GM, Asia Pacific, eBay Classifieds Group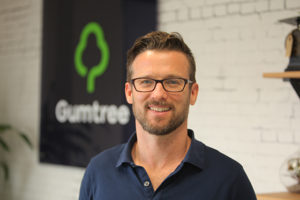 Martin has 15 years' experience launching eCommerce and digital media brands, from start-up mode into robust, profitable businesses. Martin has been part of the eBay family for the last 12 years, taking on challenges across the globe. As well as leading strategy and operations for PayPal Mobile in the US, Martin has taken on GM roles at eBay classifieds businesses around the world, overseeing Gumtree in South Africa and Poland, eBay Classifieds in the US, and LoQUo in Spain. In his current role as Gumtree Australia GM, Martin is focused on helping empower people and create economic opportunity for local communities. Martin's leadership agenda places an emphasis on diversity, collaboration and innovation, and at Gumtree Australia, he has produced an inclusive and empowered workplace culture characterised by the 50/50 gender balance on the leadership team. In 2017, under his guidance, Gumtree Australia undertook its biggest business move to date by undergoing a rebrand to celebrate 10 years in market. The improved functionality and updated design behind the hugely successful rebrand was driven through consultation with Gumtree's users, an approach adopted for all product improvements. Martin is dedicated to empowering his team to deliver the brand's vision for Gumtree to be Australia's favourite local marketplace for all of life's needs.
Lessons in Strategic Management
Meet all AIB's 
Industry Guest Speakers.