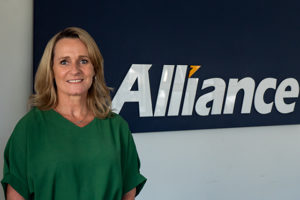 AIB Industry Guest Speaker
Former General Manager, HR & Development, Alliance Airlines Group
Tracie has 20 years' experience in the Human Resources field and a successful prior career within the Queensland Police Service spanning 11 years. Tracie's current role is the General Manager, HR & Development for Alliance Airlines. She joined Alliance Airlines in 2008 and is responsible for all aspects of Human Resources, Training and Development across Australia and New Zealand region. Some of her responsibilities include Talent acquisition, Workforce planning including financial, Industrial and Workplace Relations, Organisational & HR development, Training and Remuneration strategy. Tracie is known for her straight forward pragmatic approach to HR and producing results with outcome driven teams. Her strengths include managing leadership development, strategy and business planning, driving innovative learning and development outcomes within budget. She has a passion for ensuring that HR professionals provide relevant, practical solutions for business in both the HR and L&D space.
Lessons in Strategic Human Resource Development
Meet all AIB's 
Industry Guest Speakers.