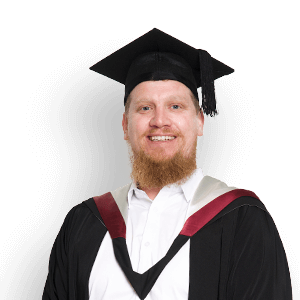 Post-MBA Salary Expectations
While an MBA degree offers many benefits, a higher salary is one of the most common reasons for pursuing it, and a straightforward metric for calculating ROI.
This is with good reason – post-MBA salary increases can be significant. Paired with the career acceleration that many MBA graduates also see, the benefits of holding the qualification can be life-changing.
Continue reading to learn more about how, and how much, an MBA can increase your future earnings.
Jump to:
Does an MBA increase your salary?
Increasing future earnings is a key motivation for professionals who are thinking about doing an MBA. A 2021 survey conducted by MBA News found that most students considering an MBA (59%) expected a salary increase of 20–50% within 5 years of graduating.
Research confirms that it is reasonable to expect that completing an MBA will lead to a higher salary. The Australian Institute of Business's 2021 Alumni Insights Report found that 74% of AIB Fast-Track MBA graduates have in fact received a salary increase since graduating.
Average salary increases for MBA graduates
Salary growth also comes quickly for our students. Alumni surveyed for our 2021 Alumni Insights Report, on average, reported:
$33,712 pay increase since starting their MBA.
$14,356 income increase during their MBA studies.
Because the biggest salary increases from an MBA tend to come quickly, the total return on investment on the degree, over the course of a whole career, can be substantial.
View an MBA salary comparison and estimate your possible salary increase with our MBA ROI Calculator.
What is the average MBA salary in Australia?
The most reported income range among Australian, Canadian and New Zealand respondents of the 2021 Alumni Insights Report is between $120,000 and $150,000.
The Australian Bureau of Statistics estimates average weekly ordinary time earnings for full-time adults (seasonally adjusted) at $1,748.40. This puts Fast-Track MBA graduates' earnings at 32–65% higher than the Australian average income.
How an MBA can increase your future earnings
There's no rule that requires employers to automatically pay employees more once they've earned an MBA, so why do people tend to earn more with an MBA than without one?
An MBA can contribute, directly or indirectly, to greater earnings in several ways.
Pathways to promotion
Career progression is a goal for many MBA students, and unsurprisingly this goes hand-in-hand with salary increases.
In fact, our Alumni Insights Report 2021 found that 74% of AIB Fast-Track MBA graduates report already achieving their career progression goals – the same percentage of graduates as those reporting salary increases.
Of alumni who graduated in 2020, 70% have already been promoted to more senior roles.
A higher value on the job market
90% of our alumni believe that the Fast-Track MBA has enhanced their professional value, and employers would agree.
Almost all (96%) of the employers who responded to the 2016 Year-End Poll of Employers from the Graduate Management Admission Council say that hiring recent business school graduates creates value for their companies.
An increased ability to negotiate
The skills that an MBA teaches, and the qualities that it instils in graduates can also contribute to increased salaries by preparing graduates to better negotiate and advocate for themselves.
In addition to negotiation, communication and advocacy skills, 96% of our alumni said that the Fast-Track MBA increased their confidence.
A stronger network
Our graduates have access to our exclusive AIB Alumni Network. Access to the network provides ongoing opportunities and benefits, including networking events and connecting with over 23,000 alumni, students, academics and industry partners from 95 countries.
The connections our students and alumni are able to form can make a difference when finding a new role, or launching or acquiring a business — something that 67% of our alumni have done since starting their studies.
A Fast-Track MBA is a great way to achieve salary increases
With so many of our alumni achieving strong salary increases on average, increasing your potential future earnings is a great reason to choose a Fast-Track MBA.
There are many reasons why an MBA is worth it. As well as higher incomes, our MBA can help you accelerate your career, build a network, launch a business and achieve so many more career goals.
Make an appointment with one of our Course Advisors to learn more about how our Fast-Track MBA can help your career.