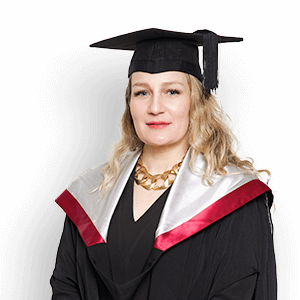 PROJECT
Fast-Track MBA Subject
As the final subject, Project is a significant milestone on the path to achieving your MBA with AIB.
In this capstone subject, you'll embark on an independent research project focusing on a real-world business issue or opportunity of strategic or functional importance in your chosen organisation or industry. Starting by concisely reviewing theories and frameworks, you'll identify and analyse secondary data before presenting your findings and recommendations in a formal report. You'll draw on the skills and knowledge developed throughout the entire MBA journey to complete Project, tying together and reinforcing much of the learning.
You'll be supported throughout Project by an Online Learning Facilitator who is a subject matter expert in the discipline area your report relates to, and you'll be among a cohort of classmates on the same journey as you. Live interactive weekly webinars will provide the opportunity to gain clarity and confidence and collaborate at each project stage.
The unique power of Project is that it's beyond just an assessment for your MBA. As the subject will have you investigating actual problems or opportunities in your industry or organisation, your final report acts as a real-world business case that students can implement to drive change and improvements in the workplace.
Subject Learning Outcomes
On successful completion of Project, you will be able to:
Critically examine contemporary business theory and practices related to an identified enterprise (or industry) problem or opportunity.
Demonstrate ability to apply innovative approaches, techniques, ethical perspectives and the use of secondary data, to an identified enterprise (or industry) problem or opportunity.
Critically evaluate business (or industry) concepts and synthesise existing research, theory and secondary data to advise business stakeholders on business solutions.
Communicate evidenced-based recommendations to stakeholders clearly, persuasively and credibly.
When deciding on a topic for the project report, ask yourself:
Is there a case organisation or industry you would like to focus on?
Do you have a problem or opportunity in mind within your case organisation or industry?
What is happening in your external operating environment that could point to an opportunity?
What polices and/or practices are currently inadequate (resulting in poor performance)?
Do you have access to secondary data aligned with the problem or opportunity that you could analyse?
Subject Faculty
The AIB academic team hold significant qualifications and experience in their field of expertise. Our academics strive for excellence in teaching, learning, scholarship and research so they can deliver high quality, life-changing experiences for our students.
Project involves completing three assessment pieces. The first is a brief project statement to outline what you will be investigating. The second and third assessments are scaffolded, meaning that the second assessment becomes part of your final project report. In the second, you will review relevant theories and frameworks and describe the methodology and methods you are using to investigate the problem. The final report is due at the end of the subject, which includes analysis of your findings, implications and recommendations.
I've recently started my own business, and my final Project helped form a big part of my business plan. Through Project, I really wanted to understand the Canadian luxury watch industry in greater depth and see what the competition was doing. It supported me to launch a new brand into the market.
100% Online MBA Learning
Our innovative Student Learning Portal is your ultimate digital resource for everything you'll need to successfully complete this subject and your online MBA, with the flexibility to access your learning materials, videos, podcasts and other multimedia on any device. You'll engage with fellow students and have key concepts explained by your Online Facilitators in webinars and forums.
GET A SNEAK PEEK OF AIB's LEARNING PORTAL >
In addition to the Student Learning Portal, the myAIB app allows you to download modules and full subjects to view offline to save your cellular data, receive notifications for assessments and webinars, listen to audio versions of modules through Soundcloud and enjoy many other useful features.
The myAIB learning portal app is available on Google play and on the Apple app store.
AIB supports your success
When you study with AIB, you'll be supported by our skilful team of over 180 academic, student support and professional staff, who will be with you every step of your MBA journey.
Student Learning Portal
Our innovative Student Learning Portal provides all the resources and support you'll need to successfully complete your MBA studies
Academics
Highly qualified and experienced academics
Practice-centric curricula, innovative learning resources and realistic assessment techniques
Study Tools
Access to tools you'll need to successfully complete your degree and excel in your career including Office 365, LinkedIn Learning, Scite_, GrammarlyEDU and Endnote
Student Support
Dedicated student and enrolment teams
Supporting you with any issues big or small from orientation to graduation
Online Facilitators
Each class has a dedicated Facilitator (OLF) and a limit of just 50 students to ensure you'll benefit from high levels of interaction, relationship building and learning
Wellbeing and career support
Access to a confidential support service providing personal counselling, wellbeing advice and career assistance