03 Jan 2017
AIB Featured Business Leader – Claudia Batten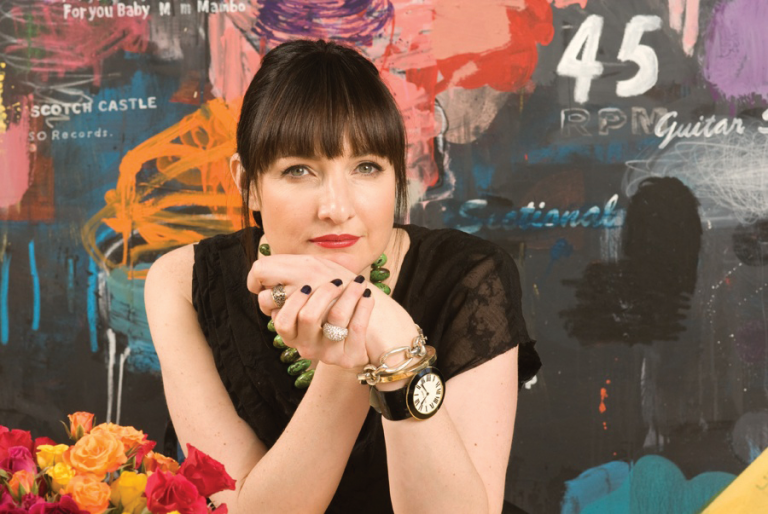 "Why, sometimes I've believed as many as six impossible things before breakfast", says the Queen in Alice in Wonderland. Claudia Batten, who cites the book as having had a "profound influence" on her, has dared to believe in her own impossible things, and in doing so has become a queen of the digital world.
In her own words, Batten has followed a 'squiggly road' to success, starting her professional life as a corporate attorney before leaving to co-found a company that pioneered advertising within computer games. She sold that company to Microsoft and went on to form a crowd-sourced advertising agency, Victor & Spoils. In 2014, she became the youngest recipient of the World Class New Zealand Supreme Award. Batten was a director of the Auckland angel investment house The Icehouse until July of this year, and has recently co-founded a contact sorting app known as Broadli. At only 39, it's clear that she regards her best years as lying ahead of her, notwithstanding that she's already achieved more than most of us will in a lifetime.
Batten was born in New Zealand and grew up in Wellington. Her father worked in management, and her mother in real estate, giving her a background in business from an early age. They would bring home copies of The Economist and Fortune magazines, which twelve-year-old Batten would devour in order to keep up with the adult conversationalists. Buoyed by her parents' self belief, she sailed through school and onto higher education.
She graduated from the Victoria University of Wellington in 1998 with double degrees in Law and Commerce, and it was here that she faced the first fork in her road. A self-described "makeup junkie", she considered launching her own makeup range as a first venture into the world of entrepreneurship. Ultimately, though, she chose the more conservative route and went into law. She spent four years at Russell McVeagh, specialising in intellectual property, contact and technology law. During those years, she became more and more obsessed with the possibilities in the digital world, as well as becoming determined to strike out on her own.
In 2002, Batten left that job and moved to New York, where she met two Australian expats who were equally keen to create a new career for themselves. The three founded Massive Incorporated, a company that pioneered the idea of delivering advertising within online video games. As a lean startup founder, Batten and her associates did everything from drafting contracts and running the payroll to promotions and fundraising. In the process, she honed her knowledge of video game technology and the digital industry.
The company was an instant success, riding on the coattails of the booming gaming market. In 2007, Microsoft acquired Massive for a reported $US40M and Batten went to work for Microsoft to scale the network. This shift from big law firm to startup to huge technology company is typical of Batten's non-linear trajectory, as well as attesting to her incredible adaptability.
Craving another startup challenge, Batten left Microsoft in 2009. She relocated to Boulder, Colorado with her new husband, artist Mark Castator, and co-founded her next company, Victor & Spoils. Victor & Spoils is an advertising agency built on the principles of crowdsourcing, using the creative contributions of suppliers and clients as well as in-house talent. Another instant success, the company was majority acquired by French holding company Havas Worldwide in 2011, just two years after its inception.
Originally intending to stay on, Batten instead decided to take some time off from her fast paced world and 'give back'. What this has meant in practice is manifold. Batten co-founded a new app in 2014 called Broadli, along with Alessandra Lariu who is the mastermind behind women's digital marketing network SheSays. Broadli aims to make networking more intuitive, working with your LinkedIn profile to organise people into groups and filter according to your current mission.
Tapping into her professional networks is at the centre of Batten's approach. Along with Broadli, she is the executive chairperson of Star86, which uses virtual play to encourage children to develop resilience, she mentors 30-40 people at any given time and acts as an unofficial ambassador to encourage STEM uptake for female students. By her own account, this period of her life was intentionally broad in scope, waiting for the next inspiration to pop up and saying yes to as many opportunities as possible in the meantime.
That next inspiration did manifest, but this time it hasn't been in start-up form. Today, Batten is the Regional Director for North America on behalf of the New Zealand Trade & Enterprise Department, managing over 30 employees whose shared mission is to grow companies internationally for New Zealand's benefit. She's also continued to mentor people, from Baby Boomer entrepreneurs who need digital training to millennials who need an initial door opened. She'll accept mentor requests from anywhere, but gives priority to New Zealand women in the tech industry, who "instantly go to the top of the queue" due to their rarity.
Batten gets up at 4am on weekdays and is often found at her computer until 9pm. Her colleague David Court describes her as "a cross between the Tasmanian Devil and the Road Runner", moving with a speed and intensity that's second to none. Her passion for adventure has already seen her cross oceans and continents, zigzagging professionally as well as geographically. Where the road takes her next remains to be seen, but wherever it is, it's sure to be spectacular.
This article was written by Tanya Ashworth-Keppel on behalf of the Australian Institute of Business. All opinions are that of the writer and do not necessarily reflect the opinion of AIB. The following sources were used to compile this article: How Did She Get There, Kea New Zealand, NBR, New Zealand Herald, Gamasutra, Fast Company, New Zealand Trade and Enterprise and New Zealand Women's Weekly.
Photo credit: NBR