24 Mar 2016
5 Minutes with MBA Graduate Zoe Kammas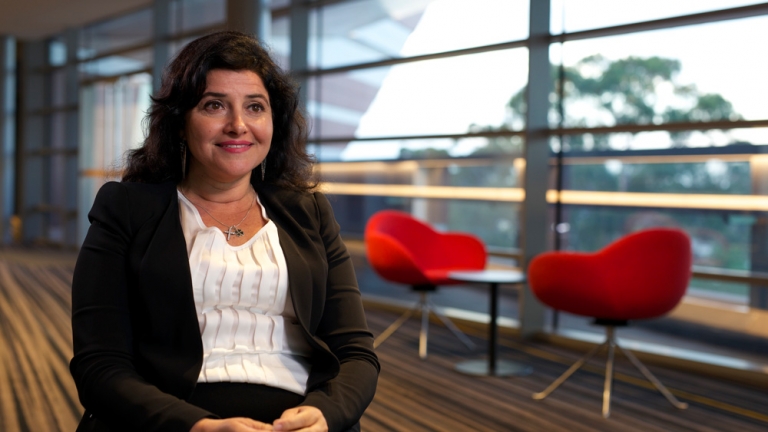 Zoe specialised her MBA degree in Human Resource Management to help open doors in a new industry following a big career change.

What motivated you to study an MBA?
The main reason I wanted to complete an MBA was because I had a change in career. Coming from the aviation and the airline industry, I wanted to pursue human resources, so I specialised my MBA degree in human resources management. It's helped me branch out into another avenue, and I'm now working alongside a psychologist, from which I've learnt to love the theory behind psychology.
What were the key reasons why you chose to study with AIB?
I liked the fact that it was accelerated learning and you're able to do it in 12 months. I also liked the affordability and flexibility. I'd never done online learning before, but it worked around my life and worked out really well in my favour.
Tell me about your current role.
I'm currently working with the New South Wales Business Chamber alongside a psychologist, where I help with psychometric testing, which is a part of the recruitment process. For specialised roles, you need to find the right person, the right culture, the right attitudes and beliefs of the company. This is where psychometric testing helps to find the right candidates.
How has the MBA benefited you in your current role?
The qualification has opened a lot of doors for me and enabled me to move up the ranks a lot higher. I've been able to branch out into a different area, which is psychology, and I'm now sought out in the marketplace and regularly approached by companies, which makes me feel great.
Why would you recommend the AIB MBA to others?
I would recommend the AIB MBA to others, especially full-time working employees who want to further their qualifications, and especially if they are changing their career direction. The academics are fantastic, and I had a lot of questions to ask, returning to study after some time.
This article has been constructed by Megan Baker from an AIB interview. The very best has been done to accurately reflect the thoughts and opinions of the participant.