02 Jul 2019
The MBA Journey for Busy Working Parents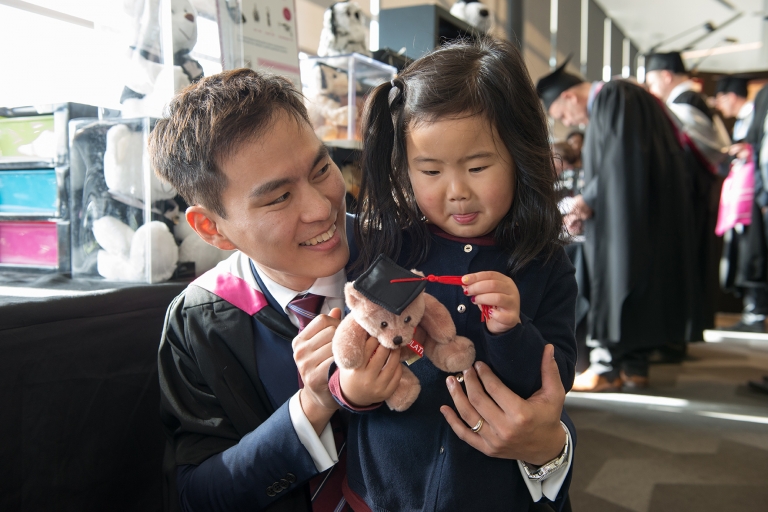 The thought of adding study to an already busy schedule can be somewhat daunting for many prospective Master of Business Administration (MBA) students. Traditionally, MBAs would take a break from work for the duration of the programme so that they could attend classes during work hours. However, business schools have now recognised the need for flexible study options, and as such, flexible online programmes such as AIB's have grown fast in popularity. If you've got children and you're either considering the MBA or are a current student, see below for some tips for tackling the MBA as a parent.
Choose a flexible online programme
When researching your MBA options, programme flexibility should be a top priority. A flexible programme is one that offers the ability to study outside of the normal 'nine to five' hours, allowing the student to tailor studies to suit their individual needs.
AIB MBA Graduate Darren Bridges explained that this flexibility came in two forms throughout his MBA journey. Despite working full-time with two young children, Darren was able to take the MBA at a pace that suited his lifestyle.

"AIB presented quite a few options in terms of flexibility, but for me, it was the online mode of study and the pace of the programme that worked best. Initially, the thought of juggling the commitments was a concern for me, but I was assured that the MBA could fit around my work and family – and it did," 
– Darren Bridges | AIB MBA graduate
An online MBA will allow you to study anywhere and at any time, with learning materials accessible and information digestible from any device. For parents, this means that you can complete the study around family life, and not miss out on quality time spent with your kids.
For father of three Jonathan Nolan, online learning was the only way that he could fit an MBA into his busy lifestyle. He explained, "It gave me the ability to study at night, after the kids had gone to bed, or in the morning before work – any available time that I had, I could complete a part of my study."
Read more: How to Choose The Right MBA For You
Personalise your schedule so that works for you and your family
If time management isn't a skill you have already mastered, it will be after you have completed the MBA as a parent! Planning your time effectively is an essential component of MBA success. As an online student, you are your own boss – meaning that you must self-manage your time and meet deadlines without anyone watching over you. It's recommended that you schedule study sessions, just as you would with a meeting, and stick to this schedule. You can fit them around commitments with your family, meaning that parental duties and quality time is not compromised.
For Gareth Noble, this is exactly how he approached his AIB MBA, while juggling a newborn baby in the house. He found the ability to set his own schedule very helpful, and with the help of his wife, he worked out a reasonable plan for his MBA. "It was challenging, but I took an hour before work and one day per weekend to study the MBA. I was quite regimented in how I studied, making sure that I had time for my family, while also prioritising study." As a result, Gareth was able to still enjoy the moments with his new son, but also achieve success in his MBA.
Also read: How to Personalise and Perfect Your Online Study Plan
6 family-friendly study tips from AIB MBA graduates:
Study in the morning before work so you can spend the evening with the kids, or study after the kids have gone to bed.
Join in on homework time with your children and study together.
Listen to audio learning materials during your commute to work, while you cook and as you exercise.
Study during your work lunch breaks and check with your employer if you're entitled to study leave.
Enlist a friend or family member to babysit the kids for a night or two in the lead up to your big assessments.
Double your recipe for dinner and freeze spare meals for later, or get older children to cook a meal for the family.
Understanding that it can often be tricky for working parents to predict how they could fit an MBA into their life, we held a live webinar on the topic recently with two of our MBA students. You can watch it below.
Understand the commitment but don't let it deter you
When approaching the MBA, it's important to remember that although it will be challenging, you're doing it to achieve your goals. Turn to the student support services at your school and your support network when you could use some study help or encouragement.
AIB MBA Graduate and Head of Retail Bank at Citibank, Janine Copelin, said she is often contacted by fellow parents, who explain that they can't study an MBA as they have too many family commitments. She believes that they're placing a glass ceiling over themselves. "Yes, an MBA requires discipline and commitment, but if you find a flexible provider like AIB, you can actually fit your study around your needs and keep up the balance," she said.
Her advice to other parents looking to complete their MBA, while having a family, is to focus on the sense of achievement and pride you will gain at the end of the journey. "My family dynamically supported me through my studies, and at the end, we celebrated this achievement together," Janine added.
Calculate your study time to see if you could fit The AIB MBA into your life. 
Click here to get the AIB MBA information pack and chat about your career goals with an AIB Course Advisor.