12 Dec 2018
Have I Got What It Takes To Study An MBA?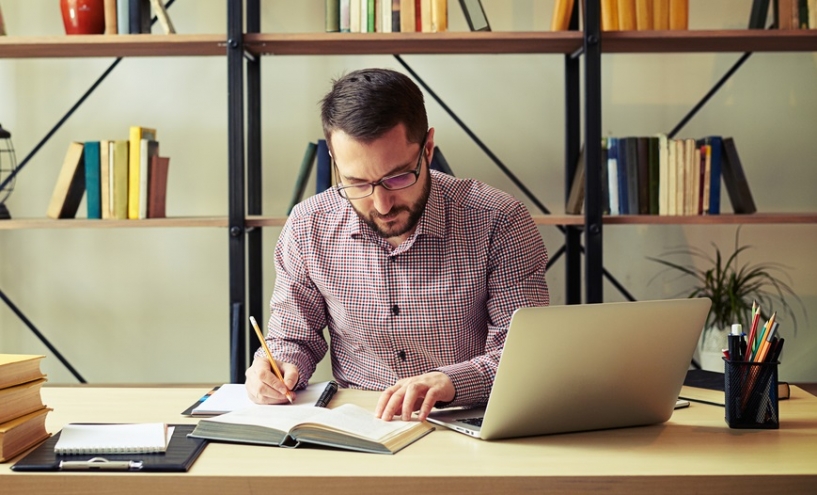 Study an MBA
When you're faced with a challenge or experience that you're unfamiliar with, it's quite normal to question your own abilities and err on the side of caution. For some, the fear of the unknown can even be enough to hold them back. But when it comes to your career, if you're not pursuing new opportunities and challenging yourself, your career progression can really suffer.
For those who have never studied a degree or haven't studied in a long time, the MBA can feel like one of those big challenges. You may find yourself wondering, "Am I smart enough?", "How will I find the time?", "Who can I turn to for help?" and "What about when it all gets a little too hard to manage?"
We're here to tell you that if you have the desire to advance your career and the determination to back that up, it's likely that you have what it takes to study the MBA. Read on to learn about the key elements that drive MBA success, and what you can do prepare yourself for the journey.
Setting you up for Success
When you're considering studying an MBA, the first step in determining if you will have what it takes will be to check that you meet the entry criteria for your chosen programme. These requirements will be in place to ensure that you have the foundation knowledge to succeed in your studies, and it is the first indicator that you can take on the MBA.
When applying to study the AIB MBA, our Course Advisors will also help to determine if you have the time and the motivation to see it through, and they will equip you with tools you'll need to succeed. Your Course Advisor will chat to you about your career goals (short and long-term), provide strategies for study success, and they'll help you find ways to fit the study commitment into your schedule.
This process will help you affirm that you've got what it takes, aligning your mindset for MBA success.
DID YOU KNOW: Not all MBA programmes require you to have a qualification to apply for the MBA. In fact, at AIB, over half of our students have never been to University before – they used their management experience to enrol in the MBA.
Professional Experience Will Give you an Advantage
As an MBA student, when you have practical work experience to reflect on and apply course learnings to, you'll get so much more out of the experience. Programmes like The MBA from AIB refer to everyday case studies in subject teachings, using a unique blend of theory and practice. Students can then take the practicality one step further, applying course content in their workplace or to past professional experiences.
This learning method helps with comprehension and recall, ensuring students benefit from the MBA throughout their career. Therefore, if you have a number of years of practical work experience under your belt by the time you begin the MBA, you already have the foundation knowledge for the MBA to build upon. Find confidence in that.
Read more: How Your Work Experience Supercharges Your MBA
With the Right Support, you Won't be Alone
From the outset, a good business school will support you from when you first consider applying, all the way through to graduation and beyond. At AIB, this is in the form of three key areas – student support, academic support and well-being support. All three go hand-in-hand and form an extensive support network for the online learning experience.
At AIB, student support offers assistance in everything from operating the online learning systems, to timetabling and study techniques. Academics and Online Learning Facilitators are there to answer the more technical, subject specific questions – from dissecting difficult concepts to assessment feedback. Finally, AIB ASSIST offers accessible third-party counselling services for managing life at home, work and with study.
Peer support also plays an important role in the MBA journey, regardless of whether you're studying online or on-campus. For online studiers, online student communities like those listed on the AIB Community Hub allow students to stay connected throughout their degree, work with others, ask for support and provide it in return.
Along with the support your family, friends, employer and coworkers provide, you'll be on your way to Graduation before you know it.
Explore: The Key Support Networks For Your Online MBA Journey
Finding the Time to Study
When would I find the time to study an MBA? It's one of the most common questions people ask themselves when considering an MBA. At AIB, we recommend setting aside 15-20 hours per week for study, although this can vary depending on the pace at which you learn and level of experience. If you're planning on working full-time while studying, it is all very possible with a comprehensive and practical study plan. This plan will ensure you're well prepared, utilising your time as best as possible, and keeping up with the study pace. It's important to always plan with contingencies, and where possible, be proactive in getting ahead of your studies.
Calculate how you would fit the MBA into your life with the MBA Time-to-Study Calculator
Motivation and Resilience are Key
One of the key factors to MBA success is an individual's ability to keep motivated, focused and driven towards the goal of completion. It's important to approach the MBA with clear goals in mind, including what you'd like to get out of the commitment. When your study motivation is low, revisit those goals and reflect on why you decided to study the MBA in the first place.
Early on in the degree, it can also be useful to identify your best learning style so that you can adapt your study methods to it, and to ensure that where you study enables you to be as productive as possible. Absolutely everyone will experience procrastination, but your ability to focus on the end goal and motivate yourself through lulls is highly valuable.
Also read: How to Stay Motivated While Studying Online
Still Unsure? Take the Test
Thankfully, there's an online test that we offer at AIB which can help assess your suitability to study the MBA. Delivered through Smarter Measure, the study readiness test considers a variety of factors important to study success, allowing you to gain an understanding of how you may fare during business school. It considers your life factors, learning styles, personal attributes and more, providing a detailed report upon completion. To take the test, get in contact with an AIB Course Advisor.
Do you have any questions when it comes to your suitability for the MBA? Our Course Advisors would be happy to answer them, so feel free to comment below, send through an enquiry or talk to a Course Advisor now by calling 1300 304 820.