04 May 2016
AIB Featured Business Leader – Jim Penman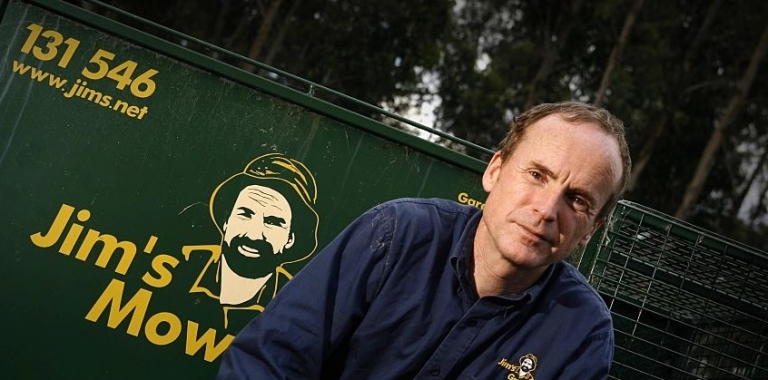 Jim Penman is the founder and CEO of Jim's Mowing, the largest franchise operation in Australia, and the largest lawn mowing business in the world. From a one-man operation launched in 1982 with just $24 in start-up funds, it now boasts a turnover of approximately $400 million with 3520 franchises across Jim's Group. Franchisees now operate in the UK, Canada and New Zealand as well as Australia, and services have expanded from gardening to a total of 41 divisions covering a range of domestic and business services.
Originally, Penman's business was a part time operation to help finance his studies in history. He had been gardening for neighbours since childhood, and gradually developed this into a mowing business while pursuing his PhD. He liked the outdoor work, and with a passion for customer service and a focus on business efficiency, he did well. But an early attempt to expand failed badly, through laziness and a lack of attention to detail. He found himself broke, his clients gone and deeply in debt.
It was now 1982. He was thirty years old, with no business and no money. His PhD thesis had been rejected after eight years of hard work. Newly married and with no prospect of an academic career, he turned again to the one business he knew – mowing and gardening. With $24, just enough to produce a run of leaflets, he began advertising. After a while, with a continued focus on customer service, he had more work than he could service and began taking on sub-contractors and selling lawn mowing rounds, but this time, keeping much tighter control of the operation.
His biggest problem was his character: a socially awkward introvert unable to tell even the most harmless of white lies. As such he proved ineffective at selling his mowing rounds. The breakthrough came when he learned to focus entirely on the interests of potential buyers, even providing advice that went against his own interests. He also began providing support and backup, without charge, to anyone who purchased a business from him. Soon, recommendations from these people made selling easy, and the business began to work. Penman says of this time that his inability to tell a lie ended up being his biggest asset.
In 1988, VIP Home Services entered the Melbourne market, a growing serious threat to Penman's still small business. He investigated their system and found real value in it, but believed he could develop something that would service franchisees even better. He launched his franchise system in mid-1989, with the stated goal of eventually having 100 franchisees, and as it happened, the franchise was far more successful than expected.
As the company grew, Penman kept in close contact with franchisees, giving each of them his personal email address and phone number, and inviting them to contact him any time, which they frequently did. To sharpen the focus on customer service he gave instructions that any client who called in twice with the same complaint be referred directly to him. He also put into place systems to survey clients and monitor complaints, driving a steady reduction in complaints over the years.
Penman attributes his success to unorthodox thinking and an obsession with franchisee welfare. Jim's Group is the only franchising system in the world that allows franchisees to vote out their franchisors, or to move to another region with another franchisor without financial penalties.
Unusually in a time of disruption, Penman's business has grown steadily from the early 1980s to today, with Penman calling it "recession-proof". As a business based on physical services rather than digital, he considers that Jims' Group is in "a phenomenally strong position" because no amount of digital disruption can replace the hands-on work of gardening, dog-walking, painting and the like. In today's world, that is as unusual as it is valuable.
Not only has Penman turned a part time lawn mowing service into the best-known lawn mowing business in the world, he has never let go of those early academic ambitions. He completed his PhD in 1983 from La Trobe University, and has published two books on the biological basis of history, which look to epigenetics and biochemistry to explain the rise and fall of human civilizations. With his most recent book, Biohistory: Decline and Fall of the West, he hopes to change the way that we look at and consider human civilization before it's too late. He contributes a million dollars a year to neuroscience research through RMIT and The Florey Institute, mainly focused on treatments for mental illness. He is also in the process of setting up his own institute to focus on research, teaching and clinical work.
Both in business and in his academic pursuits, Penman says, his success is down to unorthodox thinking. He does not intend to retire, ever.
We are excited to announce that Jim Penman will be joining us as a guest speaker at the AIB Brisbane Alumni Event on May 12th. If you would like to attend, email your interest to alumni@aib.edu.au.
This article was written by Tanya Ashworth-Keppel on behalf of the Australian Institute of Business. All opinions are that of the writer and do not necessarily reflect the opinion of AIB.